Humane's Wearable AI Projector Is Called 'AI Pin'
It's launching later this year.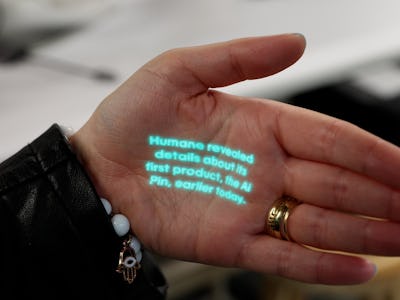 Imran Chaudhri / Twitter
Humane has officially announced the name for its smartphone-replacing wearable AI projector — the Ai Pin (yes, lowercase "i" in AI for some reason) and confirmed again that it'll be launching "later this year."
Why pin? According to Humane's press release, the Ai Pin is a "connected and intelligent clothing-based wearable," which implies it's meant to be pinned to apparel. Magnets would be the most obvious solution to attach it your clothing.
Accompanying the official name, Humane shared the teaser image of the device (above) and animation (below) with the tagline "Take Ai with you everywhere." The image shows what appears to be the top portion of the "screenless, seamless, and sensing" AI-powered device with some kind of light strip that presumably illuminates when activated.
Humane chairman and president Imran Chaudhri demoed the Ai Pin during a TED Talk in April. Below, you can see the Ai Pin in the breast pocket of his jacket, its voice assistant talking and translating, and its camera analyzing text on a candy bar and projecting a phone interface onto the palm of his hand.
Designed to work as a standalone device that replaces your smartphone, Humane also says the device will be powered by "an advanced Snapdragon platform from Qualcomm Technologies."
Chaudhri shared the following tweet showing projected text on a user's palm:
That's all the new info the company has shared about the Ai Pin. "Our Ai Pin presents an opportunity for people to take AI with them everywhere and to unlock a new era of personal mobile computing which is seamless, screenless, and sensing," said Chaudhri and his partner and co-founder/CEO Bethany Bongiorno in the press release.
We still don't know how much the Humane Ai Pin will cost. I've speculated that we should brace ourselves for a high price tag — think phone-priced, maybe even premium phone pricing.
For now, if you haven't seen Chaudhri's TED talk on Humane's vision and him demoing the Ai Pin, you can catch up in the video below.
This article was originally published on