Humane Will Begin Taking Orders For Its Wearable AI Projector 'Later This Year'
But how much will it cost?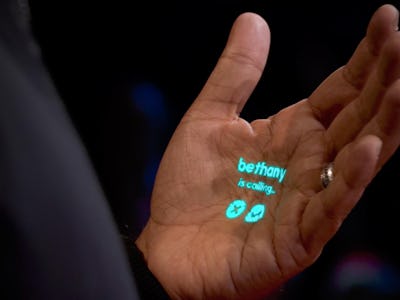 Humane
Humane captured everyone's imagination in April with the first demonstration of its futuristic wearable AI projector.
Ex-Apple designer and current Humane chairman and president Imran Chaudhri revealed and demoed the device during a TED Talk, which was leaked exclusively to Inverse. In the demo, Chaudhri shows how the projector and AI in the chest-mounted device could help curb addiction to smartphones and allow us to be more present again.
Chaudhri said the "screenless, seamless, and sensing" device could fix "a balance that's felt out of place for some time now." Chaudhri would know about our current addiction to technology — at Apple he helped create the iPhone, iPad, and Apple Watch.
While the brief demo left us with a ton of unanswered questions, the two main things we all want to know are when it'll come out and how much it'll cost.
Orders Coming 'Later This Year'
In a YouTube video, Sam Sheffer, Humane's head of new media, said the company will "take orders later this year." He directed people to join the company waitlist in order to not miss out on the chance to buy it.
"The device is incredibly well crafted. The laser is objectively cool. Having a laser project UI from your chest into your hand is inherently unique compared with the devices we all have and use today. It's something we think is a viable way to interact with ephemeral interface elements."
How Much Will the Humane Projector Cost?
Humane hasn't announced pricing for its device. But one thing it needs to be is affordable.
Earlier this month at WWDC, Apple announced its head-worn Vision Pro spatial computer (the company doesn't want you calling it a VR or mixed reality headset). After my 30-minute hands-on, I said the device blew me away with its high-res passthrough displays and extremely responsive eye and hand-tracking. But as cutting edge as the Vision Pro is, most people have been fixated on the device's whopping $3,500 price tag, with many people saying they'll wait for the price to come down in later models.
If Humane's goal is for its wearable AI projector to replace smartphones and smartwatches, it's likely going to be priced like one. Just to give you some points of reference, an iPhone 14 starts at $799 and an iPhone 14 Pro at $999; an Apple Watch Series 8 at $399. Here's hoping Humane's product comes with reasonable pricing.
Or maybe it'll cost a premium. If it really does all of the things Chaudhri demonstrated like using AI to translate your voice from one language to another, having the camera use computer vision to "read" a candy bar to determine whether it's safe for your dietary needs, or providing useful summaries for emails and notifications, then it might not come cheap.
But, god, we hope it's affordable. For Humane and our sake.