This Transparent Xbox Controller is Decked Out With RGB Lighting
This is peak transparent design for gamers.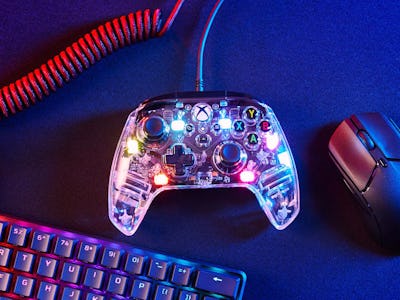 HyperX
HyperX is hopping on the transparent gadget train.
The gaming peripherals maker released a wired controller specifically designed for Xbox called the Clutch Gladiate RGB. The name may sound like random gaming terms slapped together, but it does hint at its unique design — HyperX isn't just jumping on the transparent tech craze, they're bringing it one step further with a see-through gamepad with RGB lighting.
FLASHY AND FUNCTIONAL
The Clutch Gladiate RGB is actually a decent Xbox controller and HyperX isn't hiding it. The only real disadvantage is its wired USB-C design, which isn't for everyone. You can, however, disconnect the cable to make it a little more portable and less prone to snagging on something when you're not gaming. Besides the USB-C connection, HyperX also included a 3.5mm stereo jack for plugging in a headset.
We're here for the main attraction, though, which is the RGB lights inside. HyperX included six panels across the controller, which can be customized with three effects and seven colors. In terms of the controller itself, it has two rumble motors, dual trigger locks, and two programmable rear buttons, matching the features of many other third-party Xbox controllers these days. HyperX even added impulse triggers to give you better in-game feedback. That means when you're shooting a gun or going full throttle in a car, you'll feel a more direct vibration that matches whatever you're doing.
BRIGHT LIGHTS ON A BUDGET
The Clutch Gladiate RGB is already available through HyperX's website for $44.99. If you feel like the design is too reminiscent of Sketchers' light-up shoes, HyperX does make a plain black version for $34.99.
Even though they're both wired, HyperX's Clutch Gladiate controllers give us a decent budget option in a world full of expensive wireless controllers. Besides, just think of all the AA batteries you'd burn through with the RGB lighting going all the time.