Asus' pro Xbox controller has a mini customizable OLED display
Unnecessary or underrated?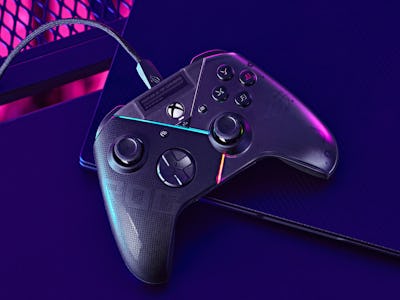 Asus
The next step in controller design may be adding built-in screens. At CES 2023, Asus introduced its ROG Raikiri Pro controller with a feature you won't find on any other gamepad: a built-in mini OLED display. The customizable display adds a decent amount of functionality to the controller.
Asus is no stranger to trying unique displays or making controllers, but this is the first time the company is combining the two. Of course, Asus packed the Raikiri Pro with a ton of features so it can hold its own as a pro controller even without a built-in screen.
Customizable controller — The ROG Raikiri Pro's 1.3-inch OLED display has a 128 x 40 resolution and can be customized to display custom images, animations, or text. On the more practical side, you can use it to display info like the current user profile the controller is configured to, and statuses for charging, power, and the microphone. Asus even added two buttons above the OLED screen to let you quickly switch between controller profiles or change what's on the display.
Even without the screen, the ROG Raikiri Pro is still a solid controller for hardcore gamers. You can set the triggers to either short- or full-range modes, and tweak the trigger dead zones. The back of the controller has four buttons that can be programmed with either in-game commands or quick sensitivity adjustments. Of course, Asus lets you completely remap the buttons, change the joystick sensitivity, and make other adjustments through its Armoury Crate app.
The ROG Raikiri Pro should work on nearly every device since it's the first-ever official Xbox controller with tri-mode connectivity. That means it can connect via Bluetooth, 2.4 GHz RF, or wired USB-C to whatever you're gaming on. Asus also included a 3.5mm headphone jack and built-in ESS DAC to improve the audio. A mute button lets you easily toggle your voice chat on and off.
Screenless options — If the ROG Raikiri Pro has caught your eye, you're going to have to wait for more information from Asus since it hasn't revealed pricing or release details. If you're not into the OLED display, Asus also has a ROG Raikiri non-pro edition without the OLED and some of the premium features.
If you consider the OLED display a little overkill for a controller, there are plenty of screenless pro controller options out there. Xbox recently added its Elite Series 2 controller to its Design Lab so you can customize the look and PlayStation is looking to drop its DualSense Edge controller on January 26. There are also third-party options from Scuf, Razer, and Logitech.
Still, Asus may be the one to make OLED displays on controllers cool, so don't be too surprised if you start to see similar products down the road.
INVERSE brings you everything from the fun and futuristic world of consumer technology at CES 2023. For all the latest technology coverage from the show, go to the INVERSE CES 2023 hub.