This Affordable Gaming Handheld Borrows Its Look From the Game Boy Color
Ayn's Odin 2 comes in a retro Atomic Purple colorway we all know and love.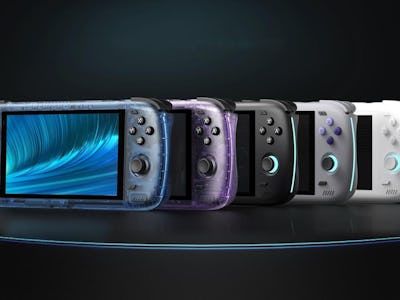 Ayn
The atomic purple Game Boy Color lives on, at least in spirit. Ayn is working on a successor to its Odin affordable handheld, which will be unsurprisingly called the Odin 2. The handheld company has been teasing the Odin 2 in recent weeks but finally revealed a prototype that starts at $299.
The Odin 2 stays fairly true to its predecessor with that affordable price tag and the purple colorway that's a clear call back to the Nintendo's iconic design for the Game Boy Color. If purple doesn't suit you, Ayn is adding a clear blue option with the Odin 2.
UPGRADING A CLASSIC
Ayn hasn't revealed which chips the Odin 2 will be built with yet, only teasing potential Snapdragon chips in its latest images. From the initial pics, the Odin 2 mostly follows the design of the first Odin handheld, but with some tweaks to the joysticks and triggers.
Ayn also revealed in its Discord that the Odin 2 will come in three different configurations. The base model will have 8GB of RAM and 128GB of storage, while the mid-range model will come with 12GB of RAM and 256GB of storage. The top-of-the-line Odin 2 will feature 16GB of RAM and 512GB of storage, so expect to pay more for this model.
MESSY LINEUPS
Ayn hasn't revealed a release date for the Odin 2 yet but has already launched the Indiegogo teaser page.
The Odin 2 will compliment Ayn's Loki Zero and Mini Pro models that recently started shipping. Earlier this summer, Ayn updated its Loki handheld lineup to four models, after first revealing a much more robust lineup a year earlier. Even though Ayn was initially planning to drop a Loki Mini starting at $239, it has since reduced the lineup, with the most affordable model being the Loki Zero starting at $249.