Ray-Ban Meta Smart Glasses Hands-On: It can Livestream to Instagram
Vloggers and influencers are going to love these camera glasses.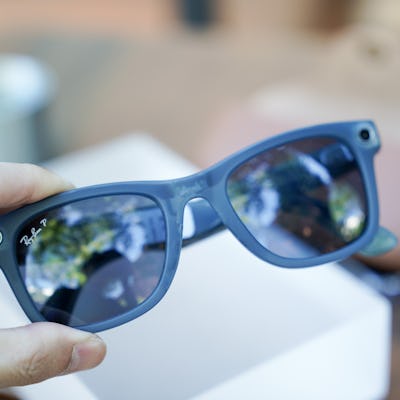 Photograph by Raymond Wong
Along with the Quest 3 mixed reality headset, Meta also announced second-generation "Ray-Ban Meta smart glasses" (note the change from Ray-Ban Stories to Ray-Ban Meta) at its Connect 2023 conference.
Just like the Quest 3, the name of the game is improvements across the board. No, the Ray-Ban Meta smart glasses do not have lenses capable of overlaying information in front of your vision like a heads-up display. But you do get new frame styles and colors that include a few transparent colorways, higher resolution ultra-wide cameras for capturing more within a photo or video, more microphones for clearer voice calls, a lot more storage, and louder and clearer speakers. In other words, the definition of a second-generation update.
Two Frame Styles
In addition to the classic Wayfarer frame, Meta and Ray-Ban are introducing a new rounder "Headliner" frame. There will be over 150 combinations of frames, colors, and lenses (available in "sun, polarized, clear, Transitions, and prescription).
My favorite pair is the transparent frames. If Jony Ive had designed these, he'd say they're unapologetically transparent. They're not for everyone and I thought the underlying circuitry wouldn't look good against my face, but I quite like it. They're more tech and less fashion, for sure, but that's what makes them unique.
I also really like the redesigned charging case. The case that came with Ray-Ban Stories smart glasses was bulky; the new one for Ray-Ban Meta smart glasses is 32 percent lighter and resembles the case you get with a pair of regular Ray-Ban sunglasses. The giveaway is the USB-C port and the button that glows to show its charging status.
12-Megapixel Ultra-Wide Camera
Gone are the Ray-Ban Stories' low-res five-megapixel cameras. Replacing them are 12-megapixel ultra-wide cameras. This is the right way to go because when you use Ray-Ban smart glasses to capture moments, you can't actually frame them up like you do with a viewfinder on a camera or a screen on a phone.
Ultra-wide lenses allow you to capture way more of what's in front of you so you don't have to worry about framing while in the moment. Snap and record first, crop later.
50 Percent Louder Speakers
I don't think I've ever used Ray-Ban Stories smart glasses and felt they weren't loud enough, but if you've ever wished for louder speakers with deeper bass, I have good news: the Ray-Ban Meta smart glasses are 50 percent louder than the Stories smart glasses. Meta tells me that they should also have less audio leakage.
They don't block out noise like active noise cancellation earbuds, but for open-ear listening, the audio does sound good.
8x More Storage
Oh, thank god. Ray-Ban Meta smart glasses come with 32GB of built-in storage for storing photos and videos, which is way more than the paltry 4GB that came with Ray-Ban Stories smart glasses. Meta says the second-gen smart glasses can store up to 500 photos and 100 30-second videos in 1080p resolution.
An Extra Hour of Battery
It's not a lot, but an extra hour of battery life and a total of four hours of usage with a single charge is still better than the three hours that Ray-Ban Stories was capable of. The charging case does provide extra charges: up to 32 hours, which works out to eight charges. Not bad!
Livestreaming to Instagram or Facebook
The improved tech specs look good. But let's be real: sharing photos and videos from Ray-Ban Stories using the Meta View app sucked. It was slow and there are tons of complaints about connection issues. Meta says it's improved connectivity between the Ray-Ban Meta smart glasses and smartphones, and reworked the View app so that it's easier to use.
There's also one potentially killer feature: livestreaming to Instagram or Facebook. I saw a demo of this and it does look pretty neat; the smart glasses show up right inside of an Instagram livestream and connect quickly. I'm not a livestreamer, but I could see a YouTuber or influencer using the feature to give their followers a hands-free, first-person view of their lives.
Same $299 Price
Yep, the Ray-Ban Meta smart glasses cost the same $299 as the previous model, $329 with polarized lenses, and $379 for Transitions. They're available for pre-order starting today at Meta.com, Ray-Ban.com, Best Buy, and Amazon. Availability starts on October 17 at Meta.com, Ray-Ban retail stores, Amazon, Best Buy, LensCrafters, and more.
They're still pricey, but if the camera experience really is better, they may be worth it, especially if your job is being a full-time content creator.