Quest 3 Hands-On: Meta's Big Bet on Mixed Reality Starts at $499.99
It's better than the Quest 2 in every way.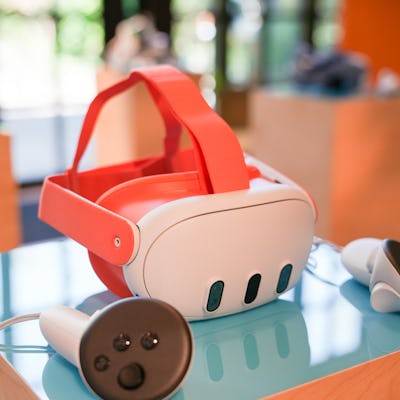 Photograph by Raymond Wong
After spending years trumpeting the unlimited potential of virtual reality (VR), Meta is pivoting — just a teensy bit — to mixed reality (XR).
At Meta's annual Connect conference today, Mark Zuckerberg, arguably the world's biggest VR, AR, and XR evangelist, officially announced the Quest 3 headset's specs.
Zuckerberg teased the Quest 3 several times this year — touting it as a big leap forward for mixed reality — and I got to try the new headset before it launches on October 10 for $499.99 (with 128GB of storage) or $649.99 (512GB).
Even with controlled demos curating the best mixed reality experiences for the Quest 3, I walked away wanting to spend more time with the new headset. It's no $3,500 Apple Vision Pro "spatial computer" and it doesn't have to be one because it's one damn good gaming system.
The Quest 3 is chock full of upgrades on the inside and outside. Billed as Meta's "most powerful" Quest headset, the company says the Quest 3 has twice the graphics performance of the Quest 2 thanks to its Qualcomm Snapdragon XR2 Gen 2 chipset. The $999.99 Quest Pro introduced last year should still be competitive graphically, though.
This doubled graphics performance is important not only for the Quest 3's longevity (the Quest 2 has hung around for three years and Meta plans to continue selling it as an entry-level headset) but also for handling its immersive mixed reality games and experiences.
Core to the Quest 3's mixed reality experience is high-res, full-color passthrough which allows wearers to tap the touchpad on either side of the headset to see the real world they're grounded in. With the added graphics power, Meta was able to include higher resolution displays with 30 percent more pixels than the Quest 2. On the Quest 2, passthrough is limited to a fuzzy black-and-white resolution that resembles crummy security camera footage.
The Quest 3's displays (2,064 x 2,208 resolution per eye) render virtual worlds and objects even sharper than the Quest Pro, which has a 1,920 x 1,800 resolution per eye. There's a very noticeable difference in clarity on the Quest 3 compared to the Quest 2 and Quest Pro. Textures and backgrounds look better, but where you'll notice the increased sharpness the most is when looking at text — letters look less like graphics from a PS2 and more like a PS4. The horizontal field of view has also widened to 110 degrees, which makes it more comfortable to look around inside of the headset without having to move your head as much.
The surprisingly good color passthrough also owes its robust tracking (that is, when you reach out to touch something in reality, it's actually there and not slightly off-center) to the depth projector on the front of the headset. A first on a Quest headset, the depth projector allows for more accurate room mapping thanks to actual z-axis measurements. Paired with six cameras (four on the front and two near the sides), the Quest 3 can track its new ring-less Touch Plus controllers with better accuracy.
More power, better displays, and improved room and controller tracking are to be expected for a third-gen Quest headset (fourth if you count the Quest Pro). But equally important is headset comfort. While the Quest 2 is still the lighter headset (503 grams versus 515 grams), the Quest 3 is easily the more comfortable headset. Thanks to pancake lenses, Meta was able to slim down the headset to make it less front-heavy. There's also a new Y-shaped headstrap. For extended use, that'll mean less drag, and hopefully less sweat and nausea. And just like the Quest 2, Meta will sell an Elite Strap ($69.99) and a Silicone Facial Interface ($39.99) should you want even more comfort.
Of course, as crucial as all of these tech specs are to the Quest 3, the VR and XR games and experiences are all that matters at the end of the day. While I only got brief hands-on time with some games — many of which were mixed reality experiences — what I saw did look promising.
In one tabletop game called BAM, I guided a little robot around a virtual battle arena and punched at another player's robot — all while the game's playspace floated above a large coffee table. I could lean my head in and out to inspect the battle arena in more detail and even walk around it to look for weapons that weren't visible from my side. BAM was really neat — the perfect way to demonstrate the Quest 3's depth tracking and color passthrough — and I could imagine a lot of developers creating mixed reality mulitplayer tabletop games like it.
Stranger Things VR was also a good demo of the Quest 3's mixed reality capabilities. Releasing in November, the game puts you inside of the Stranger Things world and lets you open and close portals. Again, my demo was brief, but I got to examine the insides of portals that were mapped onto a room's physical walls and floor and grab and throw objects just like Eleven. It was pretty fun, though a bit basic.
Every Quest 3 will come with a mixed reality demo game called First Encounters, which lets you shoot at walls to reveal what's behind them and suck up adorable fuzzball characters into a bucket. You can think of it like Astro's Playroom, the free mini game that comes with every PS5, to demonstrate what the DualSense controller's Adaptive Triggers can do.
I tried a few other titles including Samba de Amigo (launching in October) and Assassin's Creed Nexus (release date TBA), but those were more virtual reality than mixed reality experiences. Samba de Amigo does have a mixed reality mode that basically lets you shake your virtual maracas with a passthrough view of your own room, but I'd hardly say it's as immersive as BAM.
That's my main concern — how good will mixed reality games and experiences be? If developers build from the ground up, they could be something really fresh and exciting. But if they take the lazy route and just throw in a half-baked mixed reality mode or level into their existing VR games, it might put a damper on the whole movement.
Notably missing in my demo of the Quest 3 was any update on Horizon Worlds, Meta's metaverse, or Horizon Workrooms, the company's virtual office and meeting rooms experience. Personally, I care very little for either and strongly believe that Meta should focus on making Quest headsets great game consoles. Leave the spatial computing stuff to Apple, a company with actual experience designing and selling great computer experiences.
An hour or so trying out demos isn't enough to pass judgment on the Quest 3. For example, I have no idea how battery will hold up (Meta says it should last 2.2 hours for average use, 2.4 hours for gaming, and 1.5 hours of productivity). At the very least, it's a solid upgrade over the Quest 2.
Pre-orders start today, September 27. Meta's running two special promotions to attract buyers: buy a 128GB Quest 3 and get Asgard's Wrath 2 for free or get the 512GB model and get that game and a free six-month subscription to Meta Quest+.