The 8 Best Gaming Handhelds That Aren't the Steam Deck
If you're looking to game on the go, the Steam Deck isn't your only option.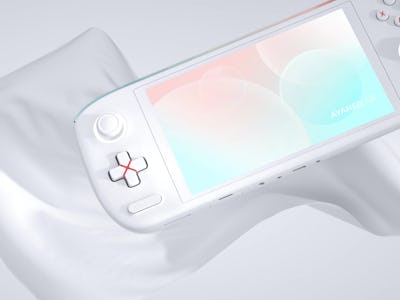 Ayaneo
We may receive a portion of sales if you purchase a product through a link in this article.
When looking at gaming handhelds, the Steam Deck may be the obvious choice. It's powerful, popular, and with a little know-how, it can do almost anything you want.
Convincing though it may be, it's not the only option. While Valve's hardware has given new life to the handheld gaming world, there are a rising array of options that bring just as much bang for your proverbial buck, offering more portability, power, and a lot of flexibility.
With this much competition, why wait for a next-gen Steam Deck? These are the handhelds that will have you gulping down framerates on Elden Ring right now.
1. Asus ROG Ally
The recently-announced ROG Ally from Asus is the latest Steam Deck killer we've seen and has already made waves since its debut on May 11. This beastly handheld offers a seven-inch LCD touchscreen with 1080p resolution and up to a 120 Hz refresh rate. The more powerful version of the ROG Ally that's powered by AMD's Ryzen Z1 Extreme processor starts at $699, while a more affordable version with the Ryzen Z1 goes for $599, both of which give Steam Deck a real run for its money.
2. Ayaneo 2S
Ayaneo is refreshing its flagship handheld with an upgraded processor and a better cooling system. We're expecting the new processor to be AMD's Ryzen 7 7840 U that's closely related to the Z1 Extreme that the aforementioned Asus ROG Ally will use. The Ayaneo 2S will hit overseas customers towards the end of June and will probably fall around the $1,099 price of its predecessor.
3. AYN LOKI MAX
Ayn is looking to outdo the Steam Deck with its Loki Max which has a better chipset and larger battery. Ayn wrapped all of this in a minimalist, Wii-like package that looks much slimmer than its rather chunky competition. Ayn is planning to release the Loki Max sometime in May so we should be able to see real-world use to really see how it performs.
4. GPD WIN 4
If the standard gaming handheld form factor feels lacking to you, how does a built-in full mini keyboard sound? That's GPD's strategy to differentiate its Win 4 from the crowd of hanndhelds out there. It does give off heavy T-Mobile Sidekick vibes so GPD's plan might be working. GPD is doing its Win 4 handheld through Indiegogo and should be shipping them out shortly.
5. ONEXPLAYER 2
Onexplayer's ambitious successor to its first handheld offers more flexibility than most handhelds. Like the Nintendo Switch, it can detach its controllers so you can play off the display on your table or docked up to a TV. You can also just use the detached display as a tablet or hooked up to a keyboard as a laptop. Of course, you can just use it as a gaming handheld, too.
6. AYANEO AIR
Handheld gaming shouldn't have to be prohibitively expensive, as demonstrated by Steam Deck's cheapest model starting at $399. Ayaneo agrees and has a more affordable option in its lineup through the Ayaneo Air. It's not going to give you the best performance out of the handhelds on this list, but it's lightweight, ultra-slim, and starts at $549.
7. Onexplayer Mini Pro
One of the biggest bummers of heavy-duty gaming handhelds is that, while portable, they're not exactly low impact. The Onexplayer Mini Pro, however, clocks in at a noticeably lighter 599 grams compared to the Steam Deck's 669 grams and still comes with the AMD Ryzen 7 6800U CPU and RDNA2-based integrated graphics — the same found inside the Steam Deck. If you're looking for a good middle ground between a Steam Deck and Nintendo Switch and have the money to spend, the Onexplayer Mini Pro could be the handheld for you.
8. GPD WIN MAX 2
If you're in the market for a handheld gaming PC but you're emhpasizing the "handheld" and "PC" part just as much as the "gaming" part, GPD has just the option for you.
While most handheld gaming PCs take a Nintendo Switch-like approach, the GPD Win Max goes all in on a more laptop-like form factor, coming with a full QWERTY keyboard and nearly bezel-less display. Naturally, there are integrated joysticks a D-pad, and A,B, X, Y buttons. Maybe you don't always need a mini laptop by your side, but having the ability to game and easily harness the full power of an operating system on a handheld can't be discounted.
This article was originally published on