Nintendo Switch Crossed a Huge Milestone — and Broke an Old Industry Rule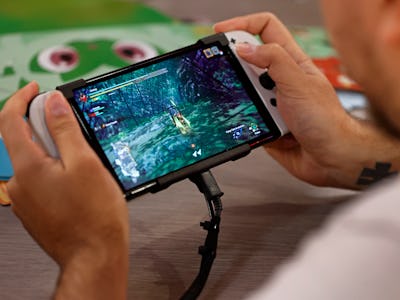 Chesnot/Getty Images Entertainment/Getty Images
As part of Nintendo's recent sales report for the fourth quarter of 2022, the company revealed that the Switch has reached 122.5 million units sold. This makes it the third bestselling system of all time, behind the Nintendo DS (154.02 million) and the PlayStation 2 (158 million). The Nintendo Switch launched in 2017 but shows no signs of stopping anytime soon, which likely means we won't get a successor for quite some time. This would go against the length of a traditional console generational cycle of around five to seven years, making the Nintendo Switch an outlier in the hardware space.
An Impressive Feat
The Nintendo Switch sold 8.22 million units from October 2022 to December 2022, which is notable considering the system is nearly six years old.
To put this into perspective, when the PS4 was six years old, it typically sold around 4 million units each quarter — half of the quarterly units the Switch is selling today. The PS4 settled at around 117 million units sold since its release in 2013, but even with more than a two-year head start, still takes a backseat to the Switch in terms of sales.
If the Nintendo Switch continues with its current trajectory, it's possible it will match (or even surpass) the sales of the DS and PS2, which would be staggering. As it stands, the Nintendo Switch sells 15 to 30 million consoles each year, with its most successful quarters occurring in the fall.
Even if the Nintendo Switch sells only 15 to 20 million systems annually for around the next two years, it'll eventually become the bestselling console of all time — a feat that actually seems plausible now.
Here to Stay
So how will the Nintendo Switch become the bestselling system of all time? Nintendo needs to squeeze around two more years out of it, which might be a tricky task, considering the demand for a Switch successor. There's no denying that the Switch cannot compete with the PlayStation 5 and Xbox Series X|S systems in terms of performance and power, but clearly, that isn't the most important factor here.
Still, the Switch Pro has been long-rumored for years now, and as time goes on, demand for it will certainly increase. But given how the Nintendo Switch is best known for its tremendous first-party lineup, as well as its indie games, it's likely the system has at least a couple of years left in the tank.
This is exactly why Nintendo has yet to announce a Switch successor. Why abandon a platform that's still performing so well? It wouldn't make business sense to launch a brand new piece of hardware until Switch sales start showing signs of declining, which might not be for a couple of years.
While it's possible Nintendo could release a console successor while still supporting the Switch simultaneously, it's unlikely. Again, there isn't much of a reason for this, especially since Nintendo has proven it doesn't need powerful hardware to sell units.
By the time a Switch successor does launch, it will likely be past the typical generational time frame, which often lasts between five to seven years. At that point, the Switch could be the bestselling system ever, while also bucking the trend of how long a traditional console lifecycle lasts.