Nintendo Switch OLED made me fall back in love with handheld gaming
The Switch's final form has reignited my love for portable play.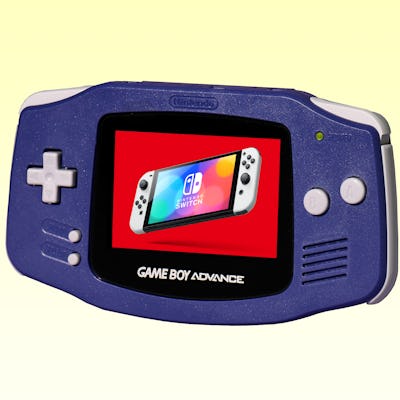 As a kid, my Gameboy Advance and I were inseparable.
From family holidays spent squinting at its glare-ridden screen in the back of cars to laying upside-down playing on the couch, this heroic little handheld was my favorite way to play in my formative years. While I loved losing hours to Metal Gear Solid 2''s beautiful nonsense on a CRT, the GBA SP felt more like an extension of my imagination — a window into another world. Yet as the cruel march of time trundled on, that window began to close. As stunning graphics and sprawling worlds became the norm, I developed a taste for 4K high definition gaming and increasingly little time to satiate it. So, for the last two console generations, the TV became my sole gateway into virtual worlds.
Despite owning Nintendo's hybrid device since launch, my Switch has largely remained in its dock. It's odd, really, considering that the Switch is arguably the greatest handheld console ever made. Its library is bursting with indie delights, obscure JRPGs, and some of the best first-party titles Nintendo has ever released.
Yet, I've not felt the same draw to its tiny little screen. For me, it's the HD Nintendo box that allows me to pour hundreds of hours into Smash Bros Ultimate without developing claw-itis. In 2017, Nintendo's stats suggested that my dock dedication was in the minority of Switch owners. Yet, for me, the Switch was very much a one-trick pony. Since the death of the endearingly quirky 3DS, my love of handheld gaming seemed to have become a thing of the past.
Or it was — until the house of Mario unleashed the Switch OLED into my sweaty gamer palms.
I initially thought the OLED was a cheap cash grab. Thanks to its lack of new processing power — or 4K dock output — I didn't see the point of it. Who is this for?! I grumbled, to my shelf full of amiibo. Turns out, it's very much for people like me. To my surprise, the Switch OLED has completely reignited my love for handheld play. I'm back shoving that small screen right up into my eyeballs like I'm 13 all over again.
Thanks to the new OLED screen, Nintendo's hybrid device finally delivers on its portable potential. Half-finished Switch games I've ignored for years now glisten with new life. Titles that once looked muddy and jagged on a 4K TV sing on the OLED's crisply-contrasted panel. Reaching for this glorious slice of gaming goodness has become a habit I can't seem to shake. I find myself cradling the Switch in bed, on the sofa, and just generally anywhere I can, reintroducing portable playtime into my life.
"The Switch OLED has completely reignited my love for handheld play."
In many ways, the Switch OLED reminds me of Nintendo's greatest handheld iteration to date – the GBA SP. Thanks to its killer one-two combo of protective clamshell design and utterly essential backlight – sick tribal tatt design, optional – the SP was portable perfection. Now with Nintendo's third run at Switch hardware, the Kyoto gaming giant has finally recaptured that magic. From the wonderfully robust and multi-angled kickstand that actually makes it usable on flights, to speakers that can be successfully used to annoy everyone in your immediate vicinity, this premium upgrade is just an infinitely more lovable Switch.
Stylized fare like the utterly gorgeous 13 Sentinels pops on the OLED screen in a way it simply can't on the base handheld. Where the launch model Switch saw colors look dull and washed out, the eye-catching contrast of the new panel pops. Ports of old classics shine, too, with retro fare like Resident Evil Zero making slaying undead on a dusty train look impossibly crisp. Okami's timeless art style shines on the new panel, seeing me abandon classic games on my Series X in favor of my cozy Switch OLED. Colorful first-party fare like Bayonetta 2, Breath of the Wild, and Metroid Dread takes on new life on the O-legendary screen.
It's not just the form factor and premium feel that harks back to the GBA glory days. Nintendo's Advance Wars collection, whenever it does release, will see the OLED fully become the heir apparent to the SP's crown. It's a release that also sits nicely amongst the recent leaks of GBA and GBC games allegedly coming to Nintendo Switch Online. Given how good the bordered SNES games already look on the crisp OLED screen, GBA classics on this bad boy will be an absolute delight.
"Nintendo's hybrid device finally delivers on its portable potential."
The question as always, is, what will Nintendo do next? While a stellar library helped the 3DS recover from a rocky launch to become a massive success, the Wii U had Nintendo squander the goodwill it amassed with its waggle-tastic predecessor. It's this second-album syndrome that Nintendo itself recently admitted is a "major concern" when thinking about what comes after the Switch.
With the ongoing success of the Switch, pressing the reset button and launching a whole new console seems like folly. In a world where people upgrade phones constantly, a more powerful Switch that exists alongside the other members of the Switch family seems the logical way to go. Nintendo's strategies have always defied prediction, but for now, this late generation hardware refresh has reignited a part of my gaming love that I forgot I had. Long live the Switch OLED.