Ayaneo's New Handhelds Try To Unseat the Steam Deck With Performance
Both of the Ayaneo handhelds will have better performance thanks to an upcoming AMD chip.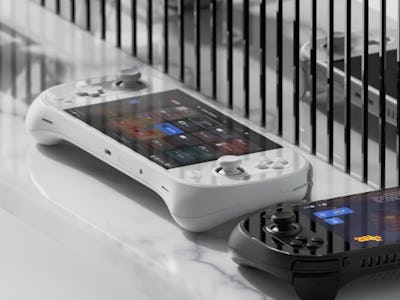 Ayaneo
The Steam Deck may have popularized portable PC gaming, but it's not the only option out there. If you're looking for something more performance-oriented, Ayaneo announced its two latest offerings, the Ayaneo 2S and the Ayaneo Geek 1S. Both of the upcoming handhelds are upgrades to its existing models since they will feature an unreleased AMD Ryzen chip.
Ayaneo's long list of handhelds predates the Steam Deck, but the company wants to solidify its spot in the market with more powerful alternatives to Valve. For those wondering what a premium Steam Deck could look like, the latest CPU and performance upgrades give both the Ayaneo 2S and the Ayaneo Geek 1S the edge over Valve.
BUILT WITH RYZEN
Ayaneo says the refreshed 2S and Geek 1S will use the upcoming AMD Ryzen 7 7000 Series processor. The processor will most likely end up being the Ryzen 7 7840 U that's being compared to AMD's Z1 Extreme chip. For Ayaneo, the new AMD processor means better energy efficiency, so we'll get longer battery life and less heat generation with the new Ayaneo handhelds. Not just with Ayaneo, AMD's upcoming processor will be powering other Steam Deck competitors including the recently-announced Asus ROG Ally.
Beyond the CPU, Ayaneo says it's updating the Ayaneo 2S and Geek 1S with a new heat dissipation module that will make for a less sweaty handheld experience. The Ayaneo 2S is also getting a number of smaller upgrades, like a new mold for better comfort and an improved fingerprint unlock sensor. For the Geek 1S, Ayaneo is going with an 800p screen but is offering the updated version in white.
BETTER PERFORMANCE, HIGHER PRICE
Ayaneo is launching its Ayaneo 2S and Ayaneo Geek 1S through Indiegogo towards the end of April, with an official launch towards mid-May for both. We'll get pricing details for both of the handhelds once the crowdfunding campaign goes up. For reference, the Ayaneo 2 currently goes for $1,099 and the Geek starts at $949.
If the Ayaneo 2S falls anywhere around its predecessor's price tag, it'll probably turn away anyone looking for a handheld that's around the Steam Deck's $399 starting price. Still, Ayaneo may not be looking to compete in this more budget-oriented price point, especially with much more powerful options like the Ayaneo 2S. Ayaneo says it will ship its Ayaneo 2S in mid-June to Chinese customers and towards the end of June for overseas buyers.