Asus Made Its Windows-Based Steam Deck Killer Official
After a few big leaks, Asus confirms its handheld's excellent specs.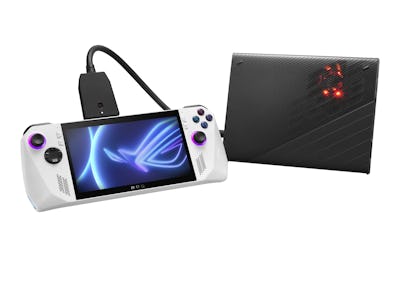 Asus
We had a sense of the ROG Ally's power and how it would be competitively priced against the Steam Deck, and now Asus is making it official. The company fully revealed its ROG Ally handheld Windows PC as part of a live stream on Thursday, May 11, confirming many of the details that made the idea of the Ally so tantalizing to prospective Steam Deck owners.
Price and availability were key to that whole equation, and Asus has some good news to go with its spec rundown. The ROG Ally with AMD's Ryzen Z1 Extreme chip (the more powerful of the two) will be available June 13 for $699, and you can pre-order it today.
Powerful Internals
The basics of what Asus is trying to accomplish with the ROG Ally are well-documented. The handheld is more compact and thick than the Steam Deck but is still trying to pull off the tricky task of running PC games in a Switch-like form factor, keeping in mind battery life, heat, and how comfortable a chunk Switch is to hold.
Here's what you get in a ROG Ally if you receive one in June:
Asus ROG Ally Specs
Display: 7-inch LCD touch screen (1,920 x 1,080 resolution), up to 120Hz refresh rate, and 500 nits peak brightness
Chip: AMD Ryzen Z1 Extreme (Zen 4, 8-core/16-threads)
RAM/Storage: 16GB LPDDR5 / 512GB
Battery: 40 Whr
Ports: 3.5mm Combo Audio Jack, ROG XG Mobile Interface X USB C combo port
Controls: face buttons (ABXY), D-Pad, L & R triggers, L & R bumpers, two assignable grip buttons, two capacitive touch thumbsticks, view button, menu button, Command Center button, and Armoury Crate button
The key win with the ROG Ally is AMD's new Ryzen Z1 processors, which Asus claims offer "up to 8.6 teraflops of graphics processing power" and support for upscaling tech to keep things looking good even on the less powerful Ryzen Z1.
The Windows of it all
Of course, the other advantage the ROG Ally has is it's running Windows 11, and the wide world of PC game storefronts and launchers is open to you. You get to play your library from Steam, download an indie project from Itch, or load up titles from the Epic Game Store — something you can't do nearly as easily on the Steam Deck's Linux-based SteamOS (if at all).
Microsoft appears to be giving the Asus ROG Ally its official blessing, offering three months of Game Pass Ultimate for anyone who purchases the handheld, and having Roanne Sones, the head of Xbox Devices at Microsoft, at Asus' launch event.
What's less clear is if that translates to any kind of software modifications to make Windows 11 work better on handhelds like we know some Microsoft teams have been testing internally. Asus has included Armoury Crate as a universal launcher for games stored on the Ally, but what happens when you have to work in the Windows desktop environment? Are you better off docking the handheld and connecting a mouse?
Availability
The Asus ROG Ally with Ryzen Z1 Extreme is available to pre-order today from Best Buy for $699 and will start shipping on June 13. For the Ryzen Z1 version, Asus is charging $599 and plans on offering the cheaper ROG Ally in Q3 2023.