The Asus ROG Ally Will Beat the Steam Deck on Price Too
That's in addition to beating the Steam Deck with twice the performance.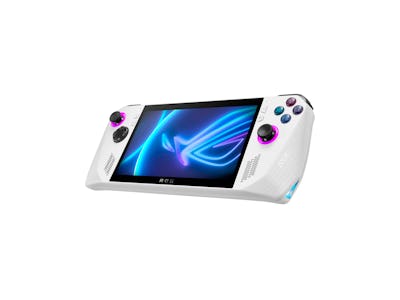 SnoopyTech
What started out as an April Fool's joke is now a serious competitor to the Steam Deck. The Asus ROG Ally hasn't officially launched — that'll happen May 11 — but leaks confirm the company is directly targeting Valve's popular PC handheld in terms of performance and price, offering a more powerful AMD chip, and getting it into people's hands for under well under $1,000.
Leakers Khumail Thakur and SnoopyTech (via The Verge) shared details on the handheld, including a screenshot of a Best Buy store page listing the high-end AMD Ryzen Z1 Extreme version of the ROG Ally for $699, not much more expensive than the $649 Valve charges for the "best" Steam Deck.
Asus Is Making a Big Play
Per the leaked listing, this more expensive ROG Ally comes with the AMD Ryzen Z1 Extreme, 16GB of LPDDR5 RAM, and a 512GB SSD. Since AMD plans on releasing two different chips, the AMD Z1 and the AMD Z1 Extreme, there's a good chance an AMD Ryzen Z1 version of the Asus ROG Ally could nestle in that $300 to $400 sweet spot that's made the Steam Deck so compelling.
We won't know until May 11 if either the price or internal specs are real, but taken with what we do know about the ROG Ally, like its 1080p resolution and 120Hz refresh rate display and support for Windows 11, there's reason to believe it could really put PC gaming fans' commitment to the Steam Deck to the test.
And this is as much an AMD story as it is an Asus one. The company's custom Zen 2 + RDNA 2 chip was key to the balance of performance and battery consumption that makes the Steam Deck work. With the AMD Ryzen Z1 and Z1 Extreme, the company is trying to take that performance to the next level, offering graphical performance that inches closer to what you'd get out of a console (on the Zen 4 and RDNA 3 architectures) and the ability to run demanding games — think Cyberpunk 2077 — at higher frame rates. There's a good chance a dedicated chip from AMD will mean even more handheld PCs will start popping up.
Valve's Making Money Either Way
For Valve, that's no real loss. Asus offering a potentially more powerful device only proves the company's point and creates demand for more PC games that play nice with controllers and smaller displays. One imagines the fact that Steam remains a popular storefront for Windows games and that Valve could financially benefit from the success of the ROG Ally helps too.
The Steam Deck was always meant to start a conversation. Valve CEO Gabe Newell told IGN in 2021 that the Steam Deck is "clearly going to be establishing a product category that ourselves and other PC manufacturers are going to be able to participate in." The Asus ROG Ally is likely just the first of many compelling responses to what Valve kickstarted.