Facebook and Everybody Else: The Q1 Tech Company Earnings Reports, Power-Ranked!
Who brought it the hardest this quarter?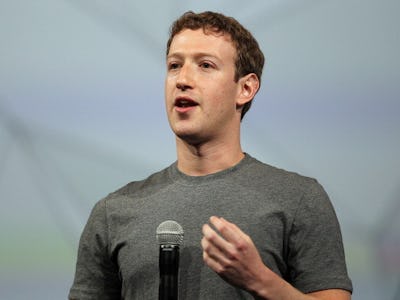 Justin Sullivan / Staff / Getty
Calling a technology company's quarterly earnings report a success or failure isn't always so simple. Sure, a lot of the assessment comes down to whether your Google or your Apple made the amount of money it was expected to make. But that kind of miss can be overlooked if your Twitter or your Tesla can point to a few promising and technologically innovative irons in the fire.
Nevertheless, in order to make things simpler for you, we've done a Power Ranking of the tech industry's heavy hitters from this quarter. Wall Street is a hell of a beast, so take a look below to find out who we think is killing it and who we think is getting killed out there.
6. Twitter: Will video streaming bring a stream of money?
Revenue came in at the low end of our guidance range, as brand marketers did not increase spend as quickly as expected in Q1.
– Twitter (tweeted on Twitter)
Twitter has a money-making problem. Always has. This is despite the fact that, as a social media company, it's typically been ahead of the game. Take for instance Twitter's new live stream deal with the NFL: Novel idea, yes – but it has to pay for the rights to stream those games.
There will be a wait-and-see period before we know whether Twitter will find an ad-based windfall with streaming live video — an area where the company is looking to expand beyond the NFL, Twitter CEO Jack Dorsey explained to investors. In the meantime it is testing a shockingly kickass, Facebook-besting A.I. that it has every right to brag about.
5. Apple: The iPhone bubble bursts
We had a very busy and challenging quarter.
– Apple CEO Tim Cook
The company most known today as "the maker of the iPhone" saw its first quarter-to-quarter drop in profits and revenue since 2003. Why? Because sales of Apple's iPhone declined for the first time in the history of the device. That being said, The House That Steve Jobs built still made a smattering of money in its Q2.
In fact, CEO Tim Cook said the quarterly results "represent excellent execution by our team in the face of strong macroeconomic headwinds," which is corporate spin but also probably true. Either way, when you get the hunch that the reason why your sales of a device have dropped mainly due to the fact that everyone on the planet already has one of 'em, then your company is probably doing just fine.
4. Google (Alphabet): A.I.-focused but missing the mark
One of the key ingredients behind this push toward greater assistance is A.I. We've long invested in building the best machine-learning team and tools, and we're seeing these efforts bear fruit in many ways.
Google CEO Sundar Pichai
The search giant has enjoyed positive publicity for its artificial intelligence wins in recent months, as its DeepMind A.I. program bested a human at the Go board game in March and its Android mobile operating system continued to pick up more personal assistance smarts.
Of course, no matter how noble or exciting the pursuit of machine learning may be, it alone cannot pay the bills. Alphabet, in its Q1 earnings statement, reported weaker-than-expected growth in Google's ad system (where the brand actually makes its money), and the company's stock plunged a quick eight percent as a result of [that news], Business Insider reports. The tech conglomerate will obviously live to fight another quarter but, all in all, didn't share a lot of interesting forward-looking tidbits in its first investor call of the year.
3. Tesla: The Model X is in the past
We take manufacturing very seriously at Tesla. It's the thing that we need to obviously solve if we're going to scale and scale rapidly and make the cars more affordable…
And I'm personally spending an enormous amount of time on the production line. My desk is at the end of the production line. I have a sleeping bag in a conference room adjacent to the production line, which I use quite frequently.
Tesla CEO Elon Musk
Not only did Tesla CEO Elon Musk tell investors to expect his electric car company to not make a profit in 2016, but he also spent much of his talk-time reflecting on Tesla's mismanaged launch of the Model X, its SUV that was released last fall but only saw its first "flawless" quality control —approved right off the line – model produced this April. (Not a good look.)
The good news for Tesla is that Musk is determined to get all these manufacturing problems ironed out before production begins for its upcoming and already popular Model 3. In fact, so determined is Musk to turn the ship around that he admitted during the call to spending nights in a sleeping bag on his company's assembly floor.
2. Amazon: Now larger than Denmark
Amazon devices are the top selling products on Amazon … We're building premium products at non-premium prices and were thrilled so many customers are responding to our approach.
– Amazon CEO Jeff Bezos
It was another profitable quarter for Amazon, something that the 22-year-old company hasn't always been able to say. A report of its profits and growth — massive growth — was about all the excitement investors were given during its fairly dry earnings call. CEO Jeff Bezos bragged of selling more Amazon-made products on Amazon than ever before, which did add a smidgen of color. But there was no mention of drones and no talk about the furthering of Amazon's Echo A.I. Oh, but Prime Music is coming to more countries outside of the U.S.? Cool.
Good job on making a lot of money and stuff, but maybe sneak in some spicy Blue Origin factoids for fun next time, say, Jeff?
1. Facebook: 1.65 billion people are now on Facebook
When I look out at the future, I see more bold moves ahead of us than behind us. We're focused not on what Facebook is today, but on what it can be and what it needs to be for our community. That means investing in areas like spreading connectivity, building artificial intelligence and developing virtual and augmented reality. I am committed to our mission and to leading Facebook there over the long term.
– Facebook CEO Mark Zuckerberg
Facebook has things on lock. It's got more users than ever before; it owns today's best companies for photo-sharing (Instagram), messaging (WhatsApp), and VR (Oculus); and soon it'll have an A.I. chatbot for every occasion imaginable.
The company is doing so well, both beating expectations and setting standards in its competing markets, that CEO Mark Zuckerberg actually spent a good chunk of the company's earnings call explaining a plan that will enable him to step away from Facebook to pursue more philanthropic side projects. You're killing it, Facebook. Damn.