Amazon Is Now Worth More Than Denmark, Quarterly Earnings Show
Amazon is big. Like, really big.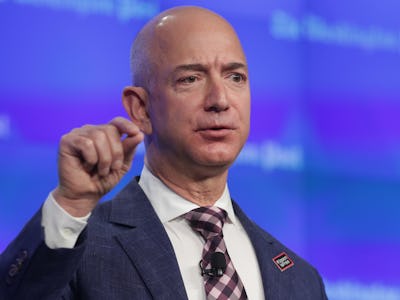 Amazon posted its most recent earnings report on Thursday, and it was big. The company is huge and profitable today (which has not always been for the case for the e-tailer). In fact, Amazon has become so big, it's now officially worth more than Denmark's gross domestic product.
It seems that the land of The Little Mermaid, Lego, and Carlsberg is no match for a website that sells really cheap books. Denmark's $294 billion GDP reported by the IMF in 2015 is big, but it's not quite as big as Amazon's approximate market cap of $319 billion (based on after-hours trading).
Amazon's product listings have slowly grown to dominate our lives, with the endless vat of anonymous strangers' opinions shrunk down into a simple star-rating system. Should I buy this dishwasher? Maybe I'll check Amazon first to see how many stars it has. Oh look, it's a bit cheaper, maybe I'll just buy it…
Do you know what the product with the most five-star ratings on Amazon is? It's Amazon's Fire TV Stick. Amazon customers use it to watch their Prime TV shows on their TVs they probably bought from Amazon because Amazon suggested a TV to go with that Fire Stick. Amazon is doing it all for us now.
Amazon's super-fast Prime delivery service has become even faster for some. The service's free same day delivery service is now available in 27 metro areas across the United States.
This isn't fast enough for Amazon, though. Oh no. It's now bought more trucks, trailers, and even leased some Boeing 767s, just so it can deliver all those Fire TV Sticks faster than you can say "Prime Day".
Amazon is taking over the world, and we love it. A Harris Poll released earlier this month showed that Amazon tops the list in terms of corporate reputation in the U.S. Across the pond, the Institute of Customer Services ranked Amazon number one in customer satisfaction in the UK.
Amazon may be slowly taking the crown as our fearless overlord, and we're cool with it. If we're not, we certainly have a funny way of showing it.