Twitter to "Expand" on NFL Deal With More Live News, Entertainment Video Streaming
Thursday Night Football is just the beginning of Twitter TV.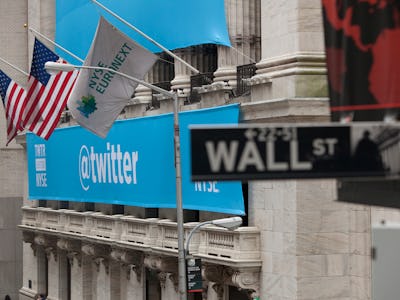 Anthony Quintano (Flickr)
On Tuesday, Twitter CEO Jack Dorsey and his leadership cohorts spoke to investors about the current state and future of the company. Among much discussion about advertising and monthly active users — of which there are now 310 million (245 million international and 65 million in the United States) — one note resounded: Twitter TV, it would seem, will soon be reality.
Earlier this month, we learned that Twitter had partnered up with the National Football League to live-stream 10 Thursday Night Football games. These games will stream on Twitter, and will be paired with both the predictable and enticing Tweetstorms and Periscope live-stream commentary, pregame, and behind-the-scenes content.
But in Tuesday's investor call, Twitter's heads of staff suggested that this was the tip of the proverbial iceberg. "Our focus is on live," CEO Jack Dorsey said. "Twitter has always been the best place to see what's happening now." Live is engaging; live sells ads. Millions of people already flock to Twitter for live updates as notable events unfold, but they've always had to do so between platforms. In other words: Before this deal with the NFL, you'd need to watch the NFL game on your TV while checking your Twitter feed on your smartphone or laptop. But, with "Twitter TV," you'll be able to do both on the same platform.
In the shareholder letter, Twitter writes:
In the past, the conversation has happened on a separate screen from the event itself. What we're doing now through live-streaming video, both in Twitter and Periscope, is bringing the event and the conversation together on a single surface.
More such integration is on the way. Twitter says it's looking to do what it did with the NFL — integrate "live, premium content" — with all sports, entertainment, and news and politics. It'll become a new platform for watching, it would seem.
Specifically, Twitter chiefs mentioned the Olympics and the U.S. election as two potential, exciting jump-off points. Both events would serve as opportunities for Twitter to showcase what it's been working on, executives said. "As we think about the year ahead," Dorsey explained, there are "certainly a bunch of interesting events coming up." These events, he continued, will open up "more opportunities for Amplify partnerships." Already there are over 300 such monetization partnerships, many of which give Twitter exclusive streaming rights; Dorsey and his team are together confident that more partnerships will spring up this year.
Again from the shareholder letter:
We plan to expand our global offering of live sports, as well as live news, politics, and entertainment. For content producers and rights holders like the NFL, we offer the ability to reach a large global, mobile, and younger audience both on and off of Twitter, together with years of experience making money jointly with partners through our Amplify program. You should expect to see us working with other partners to bring these kinds of joint experiences to life on Twitter.
Guess they couldn't swing the HBO GO connection in time for Game of Thrones.