Twitter TV Era Kicks Off With Deal to Live-Stream NFL Games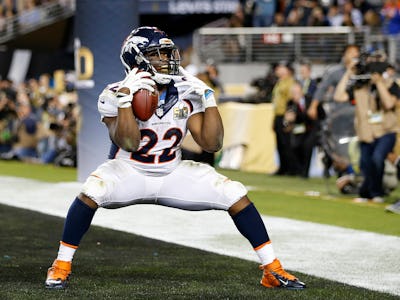 Getty Images
This could give "live tweeting" a whole new meaning.
Twitter will be the online home of Thursday Night Football when the NFL reconvenes for its 2016 season in September. The social messaging service won the rights to host the popular events after triumphing in a close competition with digital giants including Facebook, Amazon, Yahoo, and Verizon. Twitter has been struggling to reverse a months-long decline in value, and the plan to host the weekly football game is its first major foray into streaming live events.
The NFL has also announced that CBS and NBC will split the rights to broadcast the Thursday night games on television, including the option to provide a stream to paying subscribers. This means, with the deal, Twitter has secured global streaming rights, allowing those who have stopped paying for cable — "cord-cutters" — and the game's international audience, a free way to watch the games, but the microblogging service has not procured exclusive TNF streaming rights.
Yahoo did have full global streaming rights when it paid $20 million last season to host the first online stream of an NFL game. But that event proved that a digital streaming service must offer more than just content or risk viewers simply leaving to do something else. While just more than 15 million accessed the Yahoo stream, the average viewership per minute was 2.36 million, much lower than the broadcast's target of 10 to 20 million. Twitter is likely hoping that its role as a massive forum for discussion will attract viewers to stay online Thursday nights.
While the details of its deal with the NFL are not yet public, Twitter is undoubtedly making a pretty significant financial gamble with the shift to streaming. The NBC and CBS broadcast deal cost the networks $450 million for a year's rights to stream Thursday Night Football games, $45 million per individual game. The networks have a lot of experience calculating the value of these kinds of huge deals, but Twitter is expending serious resources without any of the same security.
Some major contingency of sports fans are going to have to ditch their routine to switch to Twitter-viewing to make the deal worthwhile for the site. Certainly college kids may buy in. Without easy access to cable, a free stream online sounds pretty nice. But people who really care about these games already know how they're going to watch them. Twitter may just be hoping its regular users will stick around a little while longer when they realize they can watch a football game, particularly the NFL's 12 million followers. But will that pay the bills? We will see.