On Periscope's First Birthday? A Growing List of Livestreaming Competitors
Periscope will face competition in the coming year from Google, Facebook, and YouTube; Meanwhile, Meerkat bows out.
by Kastalia Medrano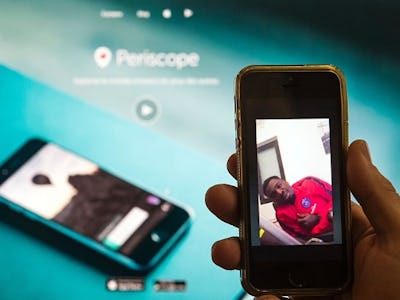 Was it really only a year ago that we were learning to live stream from our phones? Yes, it was, and since then, the field of competitors has grown substantially.
Before Periscope launched a year ago today, to the delight and confusion of everyone who pulled up Twitter to find their feed full of live video of people, like, eating breakfast, the live streaming craze hadn't truly begun. Meerkat had launched just a few weeks earlier, and the two were seen as each other's primary competition, particularly after Twitter limited Meerkat's access to the platform to focus on Periscope. One year later, Periscope has hosted more than 200 million broadcasts and a host of other live streaming services are vying for its users.
Snapchat now rivals Facebook in terms of videos viewed. And Facebook launched its Live feature in December 2015 (first celebrities-only, now also for normals). Then in January they added live streaming for iPhone users. And then came the news that Google is planning to launch its own live streaming app, YouTube Connect. The app will reportedly resemble Periscope and Facebook Live.
Facebook CEO Mark Zuckerberg gave a keynote speech at Mobile World Congress last month in which he predicted that Facebook's livestreaming would continue to grow in popularity because it offers a more raw and candid outlet than many other social media platforms, which tend to foster an atmosphere of competitive perfection.
Meerkat, for its part, is apparently feeling the pressure from Facebook Live and Periscope and going through something of a rebranding and will shift its focus away from live streaming.
It's worth noting that Facebook is also reportedly discussing terms of streaming live football games with the NFL, a white whale of the livestreaming world (Yahoo famously paid $20 million last year to be the first online platform to stream just one game). This won't give you a new way to plaster your friends' and followers' feeds with videos of your dog, but, like Zuckerberg's keynote speech, it speaks to the intensity of Facebook's focus on live streaming going forward.
Facebook also announced a partnership with Samsung to develop virtual reality technology that will incorporate Facebook's 360 streaming video. According to Ryan Steinolfson of Periscope ("Periscope Ryan"), YouTube is likely to also introduce 360 streaming within the year. YouTube's Stream Now function is currently in beta, but Steinolfson recommended keeping an eye on both Facebook and YouTube for live streaming advances in the coming year.