Facebook Added Live Streaming for iPhone Users Today
Going to a concert? Stream it! Eating dinner? Stream it! Doing a puzzle? Stream it!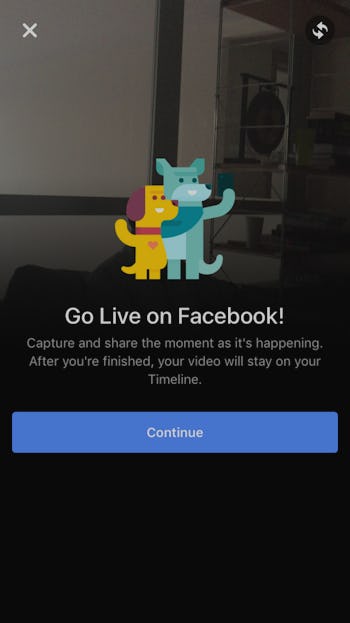 We millennials are lean, mean, streaming machines, and today, Facebook finally hopped aboard the streaming bandwagon. The widely-used social media app officially opened up its live streaming feature, which was made available last year only to exclusive VIP accounts, to everyone who has an iPhone. That means if you have an iPhone and a Facebook account, you can live stream different activities throughout your day for your Facebook friends to watch so they can see, in real time, just how difficult that jigsaw puzzle is or how hypnotic Stevie Nicks is from your seat at the Staples Center.
If you already have the Facebook app on your iPhone, you will notice a new icon under the status update section, an upper body with two concentric circles around it. Click that, and once you go live, you can see which of your friends is tuning into watch. Also, any comments your friends may have will show up at the bottom of your stream.
When it comes to social media's ability to showcase what people are doing at all hours of the day, this new Facebook feature takes that level of exposure to a new level. Snapchat already exists so people can pick up on your activities that don't make it onto your Instagram, which makes the Facebook live stream feature the cherry on top of an over-exposed life.
On the one hand, the new streaming feature will probably be useful to an older generation that's tapped into Facebook but maybe hasn't quite moved to Instagram or Snapchat. At the same time though, after you're done being "live," the video gets posted to your timeline, and so it looks like any other video you could post to your timeline. The feature is exciting, but only if you're catching it as it's happening in real time.