Google Joins Live Stream Trend With YouTube Connect, but Is It Too Late?
Why is everyone rushing to move to live stream? We'll show you the numbers.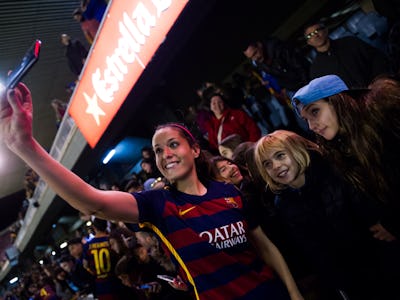 Getty/Alex Caparros
This year, according to people who study that sort of thing, is the year for live streaming. And now, perhaps a bit late to the party, will arrive Google with YouTube Connect, which will join Twitter's Periscope and Facebook Live Streaming. Engineers are still quietly tinkering away at the app which will connect with your Google and YouTube accounts.
YouTube Connect reportedly works in the same vein as Periscope and Facebook Live: You will be able to watch streams and broadcast straight from the mobile app. It will also have a chat feature so streamers and viewers can engage using text, and after the live stream is finished, it will be added to your pre-designated YouTube account. YouTube already has a beta live streaming service in its Creator Studio, but it's a little tedious to set up as you need to verify your channel, make sure it's in good standing, and download a live encoder. Plus, the client is limited to your computer. No phones.
YouTube Connect will enable Google to reach a larger number of users. However, VentureBeat reports that YouTube Connect may not have the same social media sharing capabilities as Periscope and Facebook Live.
This all begs the question, to whom are we streaming?
Video already ranks one of the top activities on social media sites, including Facebook and Twitter. The digital consumer analyst company Global Web Index said that while only a tiny percentage of consumers use live-streaming apps (about 1.5 percent globally use Meerkat and just under two percent use Periscope), its 2016 trend reports indicate that live streaming will grow in popularity. The analysts provide statistics of what mobile users ages 16 to 34 are interested in live streaming:
1) 53 percent are interested in funny entertaining videos
2) 42 percent in breaking news
3) 38 percent said music concerts/events
4) 30 percent in videos broadcasted by friends and family
"The advent of new live-casting technology in 2015 — Periscope, Blab, Meerkat — will lead to a huge upsurge in live broadcasting in 2016, which will surpass the growth of podcasting," says Michael Stelzer, CEO and founder of Social Media Examiner. "The ease of adoption and consumption with live-casting will usher in a new era of personalities and programming that was previously impossible."
Now there are live streaming apps for Broadway shows and cooking. At this year's South By Southwest festival, YouTube's co-founder Steve Chen and former YouTube engineer Vijay Karunamurthy debuted the live streaming app for foodies, called Nom. During the talk, Karunamurthy said that people still haven't quite figured out the best way to use live streaming, describing it as "awkward" but "raw" at the same time. The unexpected, unedited aspect of live video can make it extremely appealing to audiences.
Social media figureheads have also expressed their support for live streaming. Twitter CEO, Jack Dorsey said, "Twitter is live, live commentary, live conversations, and live connections whether it's breaking news, entertainment, sports, or everyday topics, hearing about and watching a live event unfold is the fastest way to understand the power of Twitter."
Similarly, Facebook's Mark Zuckerberg has been "obsessed" with getting Facebook Live to catch on. In February, he even said at a Facebook Townhall Q&A in Berlin that live video is "one of the things I'm most excited about." Android users can expect to see the Facebook Live feature on their apps soon.
Google hasn't announced a release date yet, but YouTube Connect will be made available on both iOS and Android devices.