We Tried Facebook Messenger's Chatbots, Announced Today at Facebook F8
CNN is practical, Spring is indulgent, and Poncho is fun.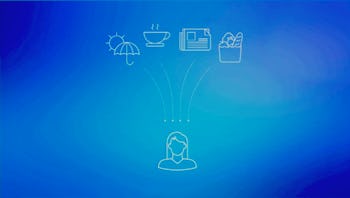 Facebook wants to help eliminate the tedium of waiting on hold when calling customer service.
At Facebook's F8 developer conference today, company leaders unveiled their beta Messenger platform for businesses. With it, Facebook wants to replace dreary customer service lines with artificial-intelligence chatbots.
Facebook's Frerk-Malte Feller, product manager director, and Jessica Lee, business operations manager, introduced the program after Mark Zuckerberg's brief overview at the first day of F8's keynote. Felter called it a "major paradigm shift" in how people connect with businesses.
Businesses will be able to easily shape these chatbots as they deem fit. With them, customers will be able to troubleshoot, check the news and weather, order items, and more. The hope is essentially that any service that would normally require an arduous, on-hold phone call can now be integrated into Facebook Messenger.
A few of these chatbots are already up and running within Messenger. You can check CNN, order from personal shopping assistant Spring, and check the weather with Poncho. These are three instantiations of Facebook's longer-term vision: CNN is practical, Spring is indulgent, and Poncho is fun.
Poncho is also one of Messenger's soon-to-be many "daily use cases" — chatbots that will facilitate your days. Its creators are saying that it'll be "the funniest chatbot, the only one you actually want to be friends with." (Poncho declined to comment for this story.)
Lee explained further that Poncho is equipped with an "emotional index that scores a person's attitude based on natural language understanding" and changes the bot's behavior and reactions as a result.
Here's what it looks like (at press time) to interact with three of the first-ever Facebook Messenger chatbots:
Poncho:
Spring:
CNN: