Facebook F8: 6 Major Takeaways From Mark Zuckerberg's Keynote
We got a bit more than a glimpse into Facebook's future.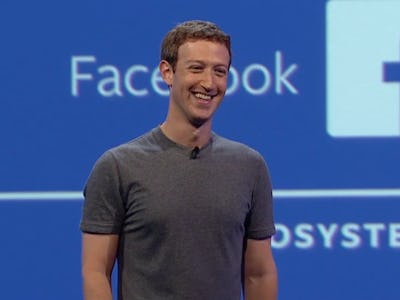 Facebook's mostly-annual developers conference, F8, kicked off in San Francisco today and will run through tomorrow. Mark Zuckerberg opened the first day's events with a keynote.
We already knew in broad strokes what to expect at F8, but Zuck privileged us with further access.
The venue was packed with attendees and alight with blue. Zuck strolled out onstage, dressed in his usual attire, and displayed impressive composure as he announced Facebook's plans for the present and the next 10 years.
Here are the highlights:
Facebook's mission to connect people
Zuck began by reiterating his vision of Facebook's mission and why it was so important to him. Overall, the world has become more and more connected — and not just in terms of the internet. "We've gone from a world of isolated communities to one global community and we are all better off for it," he said. But, Zuck cautioned that he's starting to see people and nations turning inward. "I hear fearful voices calling for building walls," he said, and he hears those same people calling for people to distance themselves from others, to exclude others. Zuck wants to reverse that trend. "It takes courage to choose hope over fear" — and it also takes optimism. An optimistic outlook, the father of Facebook said, is "behind every major step forward."
"If the world starts to turn inwards, then our community will just have to work harder."
The work Facebook's doing to connect and thereby improve the world, Zuck believes, is more important than it's ever been before. "We do it one connection at a time. One innovation at a time. Day after day after day."
"The Facebook platform keeps getting stronger."
Zuckerberg also spoke about the app ecosystem. People at Facebook are committed to giving "everyone the power to share anything they want with anyone," and they're building apps and app ecosystems to support that goal. One such platform, one of the platforms Zuck is most excited about, is Messenger.
He announced the already-anticipated business integration: no longer, he hopes, will we be bound to long phone calls with companies' customer service lines; instead, we'll be able to go on Facebook Messenger and chat with an artificial intelligence–fueled chatbot.
"We're at the beginning of a golden age of video."
Video on Facebook — both edited and raw, personal Live video — continues to take off. Engagement on Live videos far outweighs other media; TV stars who've live-streamed, Zuck said, have gotten bigger audiences on Facebook than they have on their own TV shows.
Many times, Live broadcasts are neat or charming — or something else entirely — but Zuck said they're occasionally very special. He recited the tale of one woman watching her daughter's wedding from her hospital bed on Facebook Live.
Spreading the internet
Zuck enumerated Facebook's many efforts to connect the world and to combat existing barriers to this widespread connection. These barriers, he says, are availability, affordability, and awareness, and each precludes one billion, one billion, and two billion people, around the world, respectively. He explained Aquila, the solar-powered internet-beaming drones; he explained the internet-transmitting satellites; he explained Free Basics, a program designed to provide limited access to important websites and apps in developing countries. (Already, he said, it's connected 37 countries and 25 million people, making it one of the most successful connectivity efforts ever.) He also hinted at more programs, which we'll hear more about later in F8.
Artificial intelligence
"Our goal with A.I. is to build systems that are better than people at perception: seeing, hearing, language, and so on."
Already, the Moments app uses state-of-the-art, cream-of-the-crop A.I. technology to benefit Facebook users. (Inverse spoke with the brain behind this system — read all about it here). And A.I. that curates and filters your News Feed constantly undergoes refinement.
But Zuck's not yet satisfied: "Soon we're going to be able to do even more." Soon, he hopes, these A.I. systems will save lives — like one such system, already in existence, that can diagnose skin cancer from a photo as well as find the best doctors in the world.
VR & AR: "We're building tech that's gonna change the way that we all experience the world."
Part of the 10-year plan, he said, was making VR the next big social network. Zuck showed a few VR demos that highlight why he views it as the future of both gaming and long-distance social interactions. He also predicted that AR tech will eventually be good enough to fit into everyday-looking glasses, saying: "In the future, you'll be able to snap your fingers and pull out a photo and make it as big as you want. … A lot of the things we think about as physical objects — like a TV — will actually just be one dollar apps in the app store."
Zuckerberg surprised all F8 attendees with an announcement at the end of the keynote: everyone got a Gear VR and accompanying Samsung phone to boot.