5 Tim Cook Quotes From Apple's Disappointing Earnings Call, Explained
Apple's historic growth has come to an end after 13 years.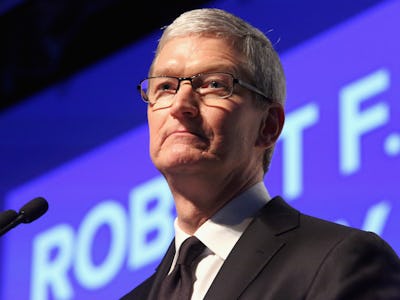 Getty Images
It was a historic day for Apple Tuesday, as the company's seemingly unstoppable growth finally came to an end. In its second quarter 2016 results, Apple reported $50.6 billion in revenue, down 13 percent year-over-year and marking the end of 13 solid years of continuous revenue growth.
Soon after the results, Apple CEO Tim Cook spoke to analysts in a conference call to explain what happened. But what was Cook saying when he said the quarter had been "challenging," or that the "Apple ecosystem" helped drive "services" revenue?
5. "We are very happy with the continued strong growth in revenue from Services thanks to the incredible strength of the Apple ecosystem and our growing base of over one billion active devices."
Cook has reason to be happy. The services sector, which includes stuff like the App Store, brought in more than what the Mac brought in during the same quarter. Apple also revealed that Apple Music now has 13 million subscribers, not quite the 20 million subscribers that Spotify reported last June, but still a reasonable competitor.
That's the strange thing about Apple Music. On paper, it doesn't do a whole lot more than Spotify. Why is it doing so well? One of the service's great strengths is its integration into various Apple products. Subscribers can ask Siri to fulfill complicated requests like "play the top 25 songs from 1981" (the first song is "Bette Davis Eyes" by Kim Carnes, if you're wondering). Continued growth here all depends on a big number of active devices enabling people to subscribe to the service, though, so one billion devices is good news.
4. "We had a very busy and challenging quarter."
Apple made a lot of big announcements in the first quarter of 2016. It released a new four-inch iPhone, a new 10-inch iPad, and reshuffled its Apple Watch lineup. On the other hand, Apple has had to brace itself for a rough quarter that it knew was coming, signaling to investors with pre-report guidance that it was not going to be a smooth ride.
3. "The iPhone SE places us in a better strategic place to attract more customers into our ecosystem"
Apple has been lacking an answer to people who want a small smartphone for quite some time. In fact, it's a similar story on the Android side. Customers have been clamoring for a smaller phone, but nobody has provided it yet. To top it off, the iPhone SE starts at $399, making it a very attractive option for people who, before now, simply couldn't afford an iPhone. Both of these factors help to expand Apple's reach.
2. "The iPhone 6s upgrade rate is higher than the iPhone 5s but lower than the iPhone 6"
This suggests that consumers care about a redesigned phone. That makes sense: redesigned phones are more eye-catching, look newer, and excite people a lot more. This is bad news, however, for current iPhone rumors: the "iPhone 7" expected to launch this year is said to retain largely the same design as the iPhone 6 and 6s. That's not good news.
1. "We're very excited about what's in our pipeline"
Apple is said to be poaching top talent from Tesla to build its own electric car. Whether or not this car would be self-driving seems to be up for debate, but what's important is that Apple has big ideas to experiment with new product categories.
On its established lines, rumors point to a 2017 iPhone being made out of an all-new metal, with wireless charging and an OLED display. Apple's meteoric rise may well be over, but that doesn't mean it's all downhill from here.