Summer Game Fest 2023 Was Too Big
Geoff Keighley could stand to learn something from E3.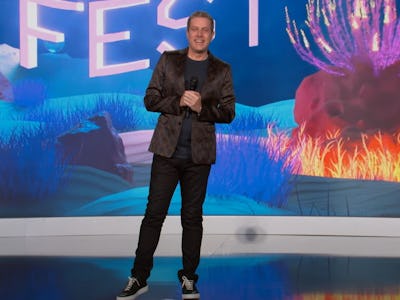 Summer Game Fest
Summer Game Fest is officially the video game industry's biggest event of the year, with no sign of slowing down. After dealing a mortal blow to E3, SGF returned in 2023 with a two-hour-long cavalcade of announcements, while other companies planned their own gaming showcases around the main event.
Considering that Summer Game Fest only started in 2020, its explosive growth is definitely impressive, but is it too much of a good thing? 2023's event included nearly two weeks of constant announcements and showcases — but only a handful of truly interesting announcements. It's enough to make even the bigger video game fans left feeling exhausted and overwhelmed.
Summer Game Fest 2023 in review
As E3 lost its crown as the industry's de facto event for big announcements, The Game Awards creator Geoff Keighley swooped in with Summer Game Fest. Keighley's events are known for their World Premieres and funny (and often hilariously awkward) celebrity cameos. But 2023's event felt different. The main presentation alone ran for roughly two hours, during which 40 games were announced. Yet only eight of those announcements were for entirely new games. The showcase itself was a slog, only redeeming itself with huge trailers like the closing tease of Final Fantasy VII Rebirth.
The next big event was Xbox's showcase on Sunday. While many of the games shown during the showcase had already been announced, some hadn't been seen in years. Fable and Metaphor: ReFantazio were standout surprises, as were the official reveal of Persona 3 Reload and the announcement of Ubisoft's Star Wars Outlaws. It was a solid showcase that balanced new reveals with meaningful looks at games that have been in development already. The lengthy Starfield Direct that came directly after again felt unnecessary, especially after the game already received a new trailer during the Xbox showcase.
By the time Capcom and Ubisoft's dedicated publisher showcases rolled around on Monday, there were too many announcements to keep track of. Outside of the big events, there was also a showcase from Devolver Digital, Day of the Devs, Tribeca Games, Wholesome Direct, the Future Games Show, and the PC Gaming Show.
And the showcases aren't over. Like A Dragon developer RGG Studios has its own on June 15th and indie publisher Annapurna Interactive used Summer Game Fest to announce its showcase that will be held on June 29. It is a never-ending cascade, but with each one having less to offer.
While E3 had many problems, which led to its demise, one of the benefits of the conference was that it took place over less than five days. There were never more than a handful of press conferences — usually from the console manufacturers and a big publisher occasionally. It was hectic, but it was a finite time. Summer Game Fest grows every year, both in how many announcements and showcases occur and in the actual length of the event on the calendar.
While each showcase had maybe one or two standout announcements, the perceived need to hold an individual event for each publisher leads to longer showcases that are less interesting. While Summer Game Fest offered a much-needed replacement for E3, the event has become so decentralized and spread out that Summer Game Fest itself has nowhere to grow. As the saying goes— bigger isn't always better.