E3 2023's Cancelation Could Fix One of the Industry's Biggest Problems
The rush to curate game demos and trailers for E3 has long been a pain point.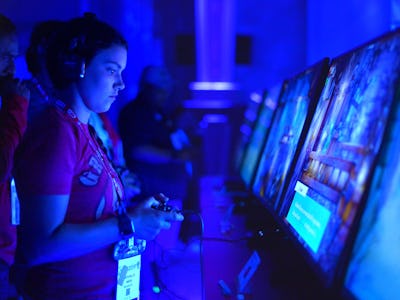 ESA
Once the hallmark annual event of the video game industry, the Electronic Entertainment Expo — more commonly referred to as E3 — has been canceled once again, and this time it feels like it may be for good. While this may come to mark the end of an era for the gaming industry, there's a silver lining in all of this that will benefit gamers and developers alike. Because without the expensive spectacle of promoting games at live events, there's an opportunity to focus on something even more important: making games.
What Happened — The Entertainment Software Association (ESA) and partner ReedPop announced on March 30 that E3 2023 had been canceled. This comes just a few days after Ubisoft, the developer and publisher behind franchises like Assassin's Creed and Far Cry, pulled out of the show. While this decision may have been the tipping point for ESA and ReedPop, IGN reported as far back as January 2023 that Sony, Microsoft, and Nintendo would not participate (Sony hadn't participated in one since E3 2018). These three console manufacturers and game publishers are some of the industry's biggest heavy hitters, so it already had many of us wondering what E3 2023 could have offered to games journalists and gamers alike.
"Show organizer ReedPop announces E3 2023 will not take place as scheduled this June, with both physical and digital events canceled," the official website now reads. "Alongside the Entertainment Software Association (ESA), both parties will re-evaluate the future of E3."
GamesIndustry.biz, which is owned by ReedPop, published an interview with ESA president and CEO Stanley Pierre-Louis shortly after the announcement offering further clarification, and he cited the following as insurmountable challenges leading to the show's cancelation:
"First, several companies have reported that the timeline for game development has been altered since the start of the Covid-19 pandemic," he said. "Second, economic headwinds have caused several companies to reassess how they invest in large marketing events. And third, companies are starting to experiment with how to find the right balance between in-person events and digital marketing opportunities."
In other words, investing in large, in-person marketing events is quite expensive, but promoting a game through digital livestreams is a far more cost-effective strategy that can also reach a wider audience. According to a Washington Post report, by 2006 "gaming companies were growing tired of pouring millions of marketing dollars into maintaining massive booths, flying out celebrities, and putting up giant billboards at E3." While the event has been pared down a bit in the years since, 2023's cancelation has been a long time coming for a myriad of reasons.
When Nintendo can drop a pre-recorded, 14-minute gameplay video for The Legend of Zelda: Tears of the Kingdom on a random Wednesday and get almost 5 million views in three days, what's the point of coordinating some big marketing spectacle at a trade show?
In a press release related to the announcement, ReedPop Global VP of Gaming Kyle Marsden-Kish also called out game demos specifically: "We appreciate and understand that interested companies wouldn't have playable demos ready and that resourcing challenges made being at E3 this summer an obstacle they couldn't overcome."
Oddly enough, game demos do present one of the biggest industry hurdles and longstanding problems with E3.
The E3 Demo Problem — From its May 1995 inception until E3 2017, the event had always been a trade show closed to the public with only industry professionals and members of the press invited. Developers would sink a lot of money and resources into crafting perfectly curated demos that they could either play on stage for an audience or show off to journalists behind closed doors. Oftentimes that would be at the detriment of the game at large, all in the pursuit of promotion.
One Kotaku report about the phenomenon cites the BioShock Infinite E3 2011 presentation as a glaring example of this: "About 20 developers at Irrational Games spent months hand-crafting this slick demo, despite the rest of the game being in a state of disarray." Though the demo features "gameplay," it's a meticulously curated experience that shows only what developers and publishers wanted everyone to see. "The interesting thing was that the game reflected in that demo is not the game that we ultimately shipped," Infinite's Level Designer Shawn Elliot told Kotaku.
What's the point of this common practice when the dishonest hype it generates can never deliver?
Just look at E3 2019, which might go down in history as the last "real" E3. CD Projekt Red brought Keanu Reeves out on stage after he was revealed as the star of Cyberpunk 2077. The game looked spectacular, but it was anything but when it finally launched. The hype cycle was always part of the problem for that game.
Without the pressure that comes with trying to shine at E3, developers and publishers can focus even more on making games and releasing them when they're ready — rather than trying to rush a glitch-laden dystopia to launch.