Every Game Announced at Day of the Devs 2023
Look at all those great indie games!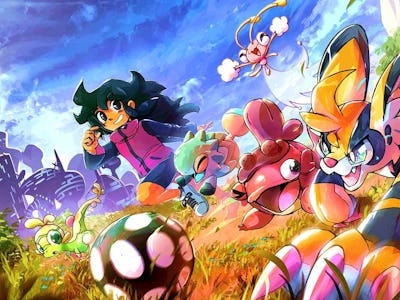 Wishes Unlimited
Not all the best announcements during Hot Geoff Summer 2023 came out of Summer Game Fest's big showcase. Day of the Devs, from Double Fine and iam8bit, showed off 15 indie titles to look forward to, with plenty of "World Premier!" announcements of its own. This year's Day of the Devs marks a decade since the showcase's inaugural session. As such, it was fittingly full of exciting titles from indie devs around the world.
Here's a closer look at every indie video game shown off during Day of the Devs 2023.
Beastieball
The newest game from Greg Lobanov and Wishes Unlimited (the team behind Chicory: A Colorful Tale), Beastieball is a new entry in the monster-catching genre that looks like Pokémon meets Haikyu!!. Instead of collecting monsters to battle, you will form sports teams to compete in a volleyball-like game. Beastiball will be turn-based and rely on building relationships between monsters to unlock special abilities.
Hyper Light Breaker
The sequel to Hyper Light Drifter from developer Heart Machine is shaping up to be a fascinating approach to the roguelike genre. New footage showed off the procedural open-world game's fluid action combat and stunning aesthetic. Early Access for the game will launch later this year.
Simpler Times
Developer Stoneskip's game Simpler Times is all about giving players a space to take a break and relax. Following the protagonist as she packs up her room to leave home for the first time, Simpler Times is a game about memories and learning to slow down.
Viewfinder
Described as Portal meets Superliminal, Viewfinder from Sad Owl Studios is a trippy puzzle game that centers around photographs. Taking polaroids of landscapes allows you to put those captured moments back into the world and change the landscape to navigate puzzles. The potential to create and destroy within this world is only limited by what you can capture with your camera.
Hauntii
From Moonloop, Hauntii is a game about ghosts in the afterlife. Being a ghost, you get the ability to haunt objects in the game's hand-drawn world, including turrets and lamps. The twin-stick shooter is more focused on finding creative solutions to puzzles than high-intensity action and will tell a story about what people leave behind when they die.
Cart Life
Originally released in 2013, the retail simulator Cart Life is coming back in 2023 with the help of Adhoc Studio. The game puts players in the shoes of three people trying to balance the stresses of life with their new business ventures that include a bagel cart, a coffee cart, and a newsstand. Try to make a profit and support your loved ones while getting to know the community you serve.
Helskate
Tony Hawk's Pro Skater goes to hell in Helskate, from developer Phantom Coast. The shredding rogue-lite is a mix of Tony Hawk and Hades, asking you to grind and combo while also fighting off demons in the underworld, culminating in large boss fights. The game will include light RPG elements to help you grow stronger and keep skating.
Henry Halfhead
From Lululu Entertainment, Henry Halfhead follows the titular character just trying to go through his everyday life. But as half a head he must take over the objects around him to get anything done. In a delightful mix of I Am Bread and Super Mario Odyssey's Cappy abilities, Henry Halfhead lets you control any object in the game to accomplish tasks like getting out of bed, making coffee, and getting to work.
Cocoon
From the lead gameplay designer of Inside and Limbo, Cocoon is an adventure game about exploring worlds inside orbs inside worlds inside orbs. The ability to move between these different levels creates exciting puzzles to solve. The game is set to be released in late 2023.
Été
The first game from studio Impossible, Été is (as the name suggests) a game about summer. You play as a painter who sees the world as a blank canvas that needs to be filled with color (a la The Unfinished Swan or Chicory). The game is about pure exploration and encourages players to discover the quirks of a small town as you bring art to it.
Summerhill
From developer Land & Sea, Summerhill is a folktale about life, loss, and livestock. The story-driven puzzle game lets players control a young herder and their dog who have to go out and shepherd their lost flock back home. The game will have "fluid herding-based gameplay", so get ready to live her pastoral shepherd dreams.
Eternights
The dating action game from studio Sai is coming in September of this year and will surely scratch that Persona-itch. The game combines hack-and-slash dungeon-crawling combat with deep relationship mechanics in which you can become friends or more with the game's cast.
Retro Gadgets
If you love tinkering with electronics then Retro Gadgets is the game for you. From developer Evil Licorice, the game is a detailed simulator that lets you build your own fun little machines like soundboards or gaming handhelds with a toolset of electrical engineering as well as customization.
Mars First Logistics
Developer Shape Shop's Mars Fist Logistics looks like a cartoonish riff on Hideo Kojima's Death Stranding. Set in a vast open world and tasked with delivering weirdly shaped items across the red planet, players need to build their own rovers that can complete deliveries. Mars First Logistics launches into Steam Early Access on June 22, 2023.
Saltsea Chronicles
This new title from developer Die Gute Fabrik is a story-driven adventure game that lets you control a ship's crew in a flooded world. By traveling around the flooded waters, you will meet new communities who have found their own ways of life in this water world and will need your assistance in a myriad of stories whose genres range from mystery to romance. There is also a card game called Spoils that you can play anywhere, though much like Final Fantasy VIII's Triple Triad, the rules vary across the world.