Like a Dragon: Infinite Wealth's Hawaiian Vibes Are Impeccable
Think of all the aloha shirt possibilities.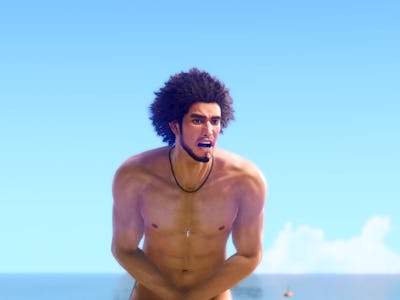 Sega
The lovable Ichiban Kasuga is back in the latest Yakuza installment, Like a Dragon: Infinite Wealth. As shown during the June 11 Xbox Games Showcase, the newest entry will seemingly take place in Honolulu, Hawaii.
That's a big departure from previous installments, all of which are based in Japan and often center on Toyko's Kamurochō vice district (based on the real-life Kabukichō district). While it hasn't been officially confirmed that Honolulu is the new setting of Infinite Wealth, it's highly likely that's where the game will take place, at least partially. And if so, this could be exactly what the series needs.
In the Yakuza games, players explore densely populated cities on foot, unlike other similar open-world games that require vehicles to get around. The latest Infinite Wealth trailer seemingly takes place on Waikiki Beach in Honolulu, which has a vibrant and eclectic urban setting just steps from one of the world's most postcard-worthy beaches.
So, if the game does take place in Hawaii, it will likely retain the same gameplay mechanics and design as Like a Dragon, with a densely populated map full of things to do — and an island twist.
The beach setting itself is a welcome change of pace and could lend itself to new mechanics, including fresh minigames. It's possible we'll get a beach volleyball minigame, along with something swimming-related and surfing. Of course, there's plenty of latitude for delicious food, karaoke, and colorful Hawaiian fashions. It'll be exciting to see what Ryu Ga Gotoku Studio does with the fresh new setting.
Honolulu is heavily influenced by Japanese culture. In fact, right on Waikiki Beach is a food hall called Stix Asia, which features vendors that serve authentic Japanese food. Honolulu is also home to the Japanese Cultural Center of Hawaii, which allows its visitors to take classes on Japanese tradition. We'll likely still see plenty of Japanese culture in Infinite Wealth.
The area also lends itself to being explored on foot. Buildings are densely packed and it's heavily focused on appealing to tourists, making it a bright, vibrant place to be. It's possible a portion of this area will be sectioned off in the game, with lots of shops and restaurants to visit, just like in previous installments.
Much like other Yakuza games, Infinite Wealth likely won't just be constrained to one city. Close to Honolulu is Pearl Harbor, which of course, is rich with history. Yakuza games often include challenging dungeons full of goons to fight, and it's possible one could be featured inside a navy base or aircraft carrier.
Likewise, it'll also be fascinating to learn how Ichiban ended up in Honolulu. In the trailer, he wakes up on the beach naked, with no knowledge of how he got there. Perhaps he was thrown overboard off the coast? If the real-world city is any indication, players are in for a treat in Like a Dragon: Infinite Wealth.
Like a Dragon: Infinite Wealth launches for PS4, PS5, Xbox Series X|S, and PC in early 2024.