Everything You Need to Know About Honkai: Star Rail Version 1.3
New adventures aboard the Xianzhou Luofu await the Trailblazer.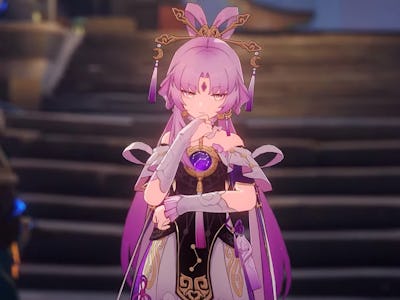 HoYoverse
The Astral Express crew isn't done with the Xianzhou Luofu yet. After the events of Honkai: Star Rail version 1.2, players have a lot of questions. Thankfully, we now know quite a lot about version 1.3, thanks to the official special program livestream.
In addition to new banners, like the long-awaited Imbibitor Lunae, players will also be able to dive into new story missions and a plethora of limited-time events. Here's everything you need to know about Honkai: Star Rail version 1.3, "Celestial Eyes Above Mortal Ruins."
What is the Release Date For Honkai: Star Rail 1.3?
Honkai: Star Rail 1.3 is set to release on Wednesday, August 30, 2023. This basically confirms that new version updates will launch roughly every six weeks.
Maintenance for Star Rail typically begins at 06:00 (UTC +8), which means the 1.3 update should release on Wednesday, August 30 at 11 pm ET in the United States, due to the timezone difference.
Honkai: Star Rail 1.3 Character Banners
Star Rail's 1.3 banners will focus on Imbibitor Lunae and Fu Xuan, with two different phases focusing on each respectively. A third new playable character, Lynx, will also debut with Fu Xuan's banner.
Dan Heng - Imbibitor Lunae's Phase 1 banner should run from August 30 to September 19, and will introduce the named character alongside three boosted 4-Star characters. Here are all four characters.
Imbibitor Lunae (5-Star, Imaginary, Destruction)
Yukong (4-Star, Imaginary, Harmony)
Asta (4-Star, Fire, Harmony)
March 7th (4-Star, Ice, Preservation)
Fu Xuan's banner will run directly after Blade from September 19 to whenever version 1.4 is (approximately October 4) and again include Fu Xuan herself, Lynx, and two other characters.
Fu Xuan (5-Star, Quantum, Preservation)
Lynx (4-Star, Quantum, Abundance)
Hook (4-Star, Fire, Destruction)
Pela (4-Star, Ice, Nihility)
What Quests Are Coming In Honkai: Star Rail 1.3?
The Honkai: Star Rail Version 1.3 Special Program, which you can watch above, revealed quite a bit about the new content players will be able to jump into.
First and foremost, there'll be a new Trailblaze mission titled "Obsequies Performed, A Long Road Ahead!" which will continue the story of the Xianzhou Luofu and Dan Heng. There will also be new companion missions for Imbibitor Lunae, Lynx, Luka, and March 7th.
Version 1.3 also introduces the new Aurum Valley map on the Xianzhou Luofu, where the Trailblazer will embark on their latest mission.
What Events Are Coming in Honkai: Star Rail 1.3?
Version 1.2 has quite a few different events that will be introduced, on top of a returning one. The first is Gift of Odyssey, which will give players a 10 Special Star Rail Pass for logging in for 7 days.
The Simulated Universe will be receiving a new update with "The Swarm Dîsaster." This introduces a new boss, The Swarm: True Stings, as well as an all-new path, Propagation. Two new Stagnant Shadow Bosses will be in the Scalegorge Waterscape and Artisanship Commission respectively.
The event "Aurum Alley's Hustle and Bustle" will follow in the footsteps of previous minigames like the Belobog Museum, and will give players a chance to do some light management in order to gain rewards. Special events like "Space Station Task Force" and "Planar Fissure" will also give players a chance to earn double rewards from doing Assignments and farming Planar Ornaments.
One of the biggest quality-of-life updates coming in version 1.3 is the increase in the limit of Trailblaze Power, which will go up to 240. The new Reserved Trailblaze Power feature will also save any overflowing Trailblaze Power, which means you won't have to constantly worry about hitting the cap.
Honkai: Star Rail is currently available on PC, iOS, and Android. A PS5 release is planned for Q4 2023.