Everything We Know About Honkai: Star Rail Version 1.2 So Far
Time to bring Kafka home.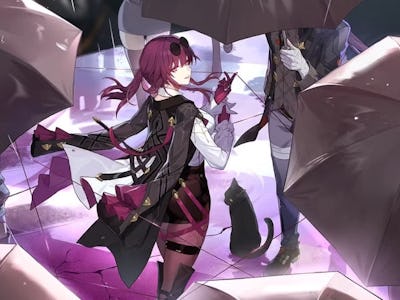 HoYoverse
If you've been waiting to continue the journey with the Astral Express, Honkai: Star Rail's second big update promises to bring a host of new banners, characters, events, and missions.
Just like with Hoyoverse's open-world action RPG Genshin Impact, Honkai: Star Rail receives a big patch roughly every six weeks. Here's everything you need to know about the upcoming Version 1.2 update.
What is the Release Date For Honkai: Star Rail 1.2?
Honkai: Star Rail 1.2 is set to release on Wednesday, July 19, 2023. As stated earlier, based on 1.1's release, this basically confirms that new version updates will launch roughly every six weeks.
Maintenance for Honkai typically begins at 4 am BST, which means the 1.2 update should release on Tuesday, July 18 at 11 pm ET in the United States, due to the timezone difference.
Honkai: Star Rail 1.2 Character Banners
Star Rail's 1.2 banners will focus on Blade and Kafka, with two different phases focusing on each respectively. A third new playable character, Luka, will also debut with Kafka's banner.
Blade's Phase 1 banner should run from July 19 to August 9, and will introduce the named character alongside three boosted 4-Star characters. Here are all four characters.
Blade (5-Star, Wind, Destruction)
Arlan (4-Star, Lightning, Destruction)
Natasha (4-Star, Physical, Abundance)
Sushang (4-STar, Physical, Hunt)
Kafka's banner will run directly after Blade from August 9 to August 29, and again include Kafka herself, Luka, and two other characters.
Kafka (5-Star, Lightning, Nihility)
Luka (4-Star, Physical, Nihility)
Sampo (4-Star, Wind, Nihility)
Serval (4-Star, Lightning, Erudition)
What Quests Are Coming In Honkai: Star Rail 1.2?
The Honkai: Star Rail Version 1.2 Special Program, which you can watch above, revealed quite a bit about the new content players will be able to jump into.
First and foremost, there'll be a new Trailblaze mission titled "Topcloud Towerthrust." At the same time, both Kafka and Yukong will have a new companion quest. Kafka's is titled "Letter From a Strange Woman," while Yukong's is "For I Have Touched the Sky."
HoYoverse also revealed three new bosses — Malefic Ape, The Ascended, and Yanqing. There's also going to be a new weekly boss called Vantelia, the Undying, which will drop materials for Blade, Kafka, and Luka upon defeat.
What Events Are Coming in Honkai: Star Rail 1.2?
Version 1.2 has quite a few different events that will be introduced, on top of a returning one. The first is Gift of Odyssey, which will give players a 10 Special Star Rail Pass for logging in for 7 days.
"Tales of the Fantastic" will involve a storyteller named Mr. Xiyan of Starskiff Heaven, who will narrate stories of the Trailblazer and how they saved the Loufu. After that players will be able to partake in "Underground Treasure Hunt," an event in Belebog that will see you delving into the Great Mines for the chance to uncover lost relics. This challenge includes some kind of minigame involving flipping cards over on a board to discover resources, which can then grant you buffs and stat bonuses.
The fourth event is "Where Are You, Mystery Trotter," which sees a scientist named Regin discover a device that can give readings about a trotter, which you'll have to find.
Finally, there are a few updates to existing events. Forgotten Hall will get an update that allows you to obtain a free copy of Yukong, Planar Fissure returns with the ability for you to get double Planar Ornaments, and you'll be able to get double Relic rewards in Realm of the Strange.
Honkai: Star Rail is currently available on PC, iOS, and Android. A PS4 and PS5 release is planned for Q4 2023.