Every Leaked Honkai: Star Rail Character to Know About Before Version 2.0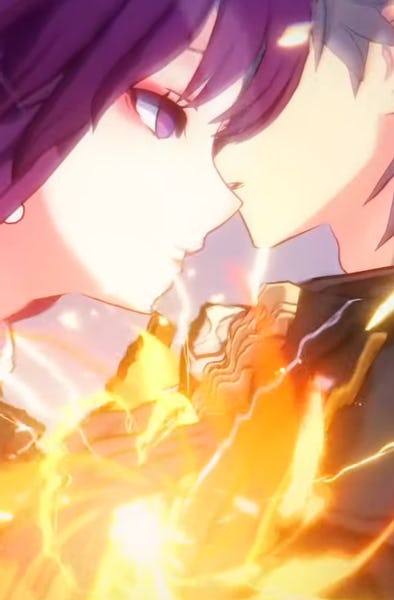 HoYoverse
Mark your calendars. Unfortunately, there isn't enough free Stellar Jade around to pull for every single character in Honkai: Star Rail. We all need to make sacrifices, like picking between the Stellaron Hunters or accepting that you might need to wait over half a year to have another chance at pulling Jing Yuan. That's why you need this handy-dandy list to see who's coming up.
Like Genshin Impact, Honkai: Star Rail has a trail of leaks leading to its upcoming characters. Some of these are real characters to expect, considering they already appeared in betas and on HoYoverse's social media accounts and blog posts. Some of these characters are already coming in Honkai: Star Rail version 1.1. Others are so far in the future that we have no clue when they will actually come out.
Here are all the characters leaked so far before Honkai: Star Rail's 2.0 update.
Silver Wolf (5-Star) - Quantum/The Nihility
Luocha (5-Star) - Imaginary/The Abundance
Yukong (4-Star) - Imaginary/The Harmony
Kafka (5-Star) - Lightning/The Nihility
Blade (5-Star) - Wind/The Destruction
Luka (4-Star) - Physical/The Nihility
Fu Xuan (5-Star) - Quantum/The Preservation
Dan Heng IL (5-Star) - Imaginary/The Destruction
Black Swan (???) - Unknown/Unknown
Guinaifen (5-Star) - Fire/The Nihility
Hanya (4-Star) - Physical/The Harmony
Jingliu (5-Star) - Ice/The Destruction
Lynx (4-Star) - Quantum/The Abundance
Ruan Mei (5-Star) - Ice/The Harmony
Screwllum (4-Star) - Imaginary/The Erudition
Topaz (5-Star) - Fire/The Hunt
Xueyi (4-Star) - Quantum/The Destruction
Silver Wolf
Element: Quantum
Path: The Nihility
Expected Release: Version 1.1
Silver Wolf first appeared in Honkai: Star Rail's prologue alongside Kafka. She's one of the galaxy's most talented hackers and can even alter the data of reality with a technique called "aether editing." It's thanks to Silver Wolf that the Stellaron Hunters were able to locate the hidden Stellaron in Herta's Space Station and implant it in the Trailblazer. We don't know much about her besides her love for hacking and gaming and devotion to Destiny Slave Elio, though.
Silver Wolf is a confirmed character coming in Honkai: Star Rail 1.1. She's a Quantum 5-star character, which might be an ideal choice for anyone who wasn't able to pull for Seele. Rumor has it that the 1.1 update will also have a free Nihility Light Cone that complements her kit.
Luocha
Element: Imaginary
Path: The Abundance
Expected Release: Version 1.1
Luocha first appears onboard the Xianzhou Luofu, but he's actually a traveling merchant from the Intergalactic Merchant Guild. He was supposed to deliver a coffin at the request of a client to the Xianzhou and leave shortly after. However, an issue with a Stellaron blocked him from departing.
Luocha is an Abundance character that wields the Imaginary element. According to data from his trial run and the beta, he excels in multiple roles like dealing damage while healing teammates. His element could be helpful for those who haven't pulled one of the game's few Imaginary characters, too. HoYoverse has a detailed blog about his abilities, but they could've changed since the beta.
Yukong
Element: Imaginary
Path: The Harmony
Expected Release: Version 1.1
Yukong is Tingyun's boss. The fox-eared ladies work for the Skyfaring Commission, one of the Xianzhou Luofu's six governing organizations. She used to be a fighter pilot before a particularly brutal battle injured both her spirit and body, enough that she decided to take a different role. She now manages the Skyfaring Commission with an iron fist, but she longs to return to the skies.
Yukong is slated to release in Honkai: Star Rail version 1.1 with Silver Wolf and Luocha.
Kafka
Element: Lightning
Path: The Nihility
Expected Release: Version 1.2
Gamers are down bad for Kafka. This femme fatale has a few pieces of lore floating around about her wavering sanity — like the Fermata Light Cone memory. It's as if nothing matters to her, so long as it follows Destiny Slave Elio's script. She earned the "dommy mommy" reputation the moment she appeared in the prologue, miming the movements of a violin as the Antimatter Legion tore apart Herta's Space Station.
Despite the hype about her personality, she's also supposed to be a legitimately useful character. You might be able to tell from just using her abilities in the trial run during the prologue. Leakers predict she will release in the same update as her fellow Stellaron Hunter, Blade.
Blade
Element: Wind
Path: The Destruction
Expected Release: Version 1.2
If you're down bad for emo boys, then Blade is for you. Like the rest of the Stellaron Hunters, he follows Destiny Slave Elio's command as if it were the law itself. He apparently "abandoned his body" to become a blade, a process that has left his body and mind with as many cracks as the ancient sword that he wields. Blade is a Destruction character with a self-healing ability, which might make for some interesting team comps with HP-dependent or non-healing teammates.
Blade was a character in the Honkai: Star Rail beta, so he's coming for sure. He just won't be available until at least the Honkai: Star Rail 1.2 update. Players should already know him if they played through the current Star Rail story arc up to the Xianzhou Luofu.
Luka
Element: Physical
Path: The Nihility
Expected Release: Version 1.2
Like Seele, Luka is a member of Belobog's Wildfire group. His most notable physical trait is his mechanical arm, which doesn't seem to get in the way of his fighting prowess. Luka is known as a skilled martial artist with an optimistic attitude that uplifts others spirits. He hasn't appeared in the story yet, but HoYoverse confirmed him as an official character on its social media pages. It's rumored that he will be a four-star character on one of the banners in Honkai: Star Rail version 1.2.
Fu Xuan
Element: Quantum
Path: The Preservation
Expected Release: Version 1.3
Fu Xuan is the leader of the Divination Commission, known for predicting events and looking into others' minds using psychic powers. Also known as the Master Diviner, she holds a high position in the Xianzhou Luofu as one of its Six Charioteers (like a certain general that just released). She first appeared in the "Witness" trailer that debuted in the 2022 Tokyo Game Show.
So far, it seems like Fu Xuan will be the first Preservation character to appear in a limited-time banner. If you don't end up building a better character from the Fire Trailblazer, March 7th, or Gepard, she might be worth looking into as a defender. She's especially worth considering if you don't pull a Quantum character by then.
Dan Heng IL
Element: Imaginary
Path: The Destruction
Expected Release: Version 1.3
The IL in Dan Heng IL stands for "Imbibitor Lunae." HoYoverse hasn't confirmed this character, but he's appeared in enough leaked cutscenes that it's hard to imagine that he wouldn't appear in a story quest.
Dan Heng IL is supposedly the same person as Dan Heng, but you have to pull for him separately because he looks and fights differently than his 4-star counterpart. Honkai Impact 3rd does something similar with different versions of the same character.
Black Swan
Element: N/A
Path: N/A
Expected Release: N/A
Black Swan is the card reader from the Honkai: Star Rail Myriad Celestia Trailer, which goes over the different Aeons that are important to the game's story.
Adventurine (5-Star)
Element: Imaginary
Path: The Preservation
Expected Release: N/A
Guinaifen (5-Star)
Element: Fire
Path: The Nihility
Expected Release: N/A
Hanya (4-Star)
Element: Physical
Path: The Harmony
Expected Release: N/A
Jingliu (5-Star)
Element: Ice
Path: The Destruction
Expected Release: N/A
Lynx (4-Star)
Element: Quantum
Path: The Abundance
Expected Release: N/A
Ruan Mei (5-Star)
Element: Ice
Path: The Harmony
Expected Release: N/A
Screwllum (4-Star)
Element: Imaginary
Path: The Erudition
Expected Release: N/A
Topaz (5-Star)
Element: Fire
Path: The Hunt
Expected Release: N/A
Xueyi (4-Star)
Element: Quantum
Path: The Destruction
Expected Release: N/A
This article was originally published on