Honkai Star Rail Theory Teases a Freaky Kafka Twist Ahead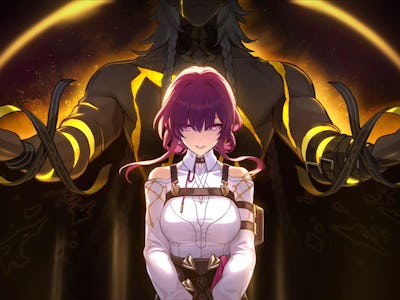 HoYoverse
Who can resist Kafka? Her breathy laugh and trickster charm have made her a "dommy mommy" among the Honkai: Star Rail fandom. But you'd best be careful if you're playing around with her.
The opening cutscene, "A Short Play," seemingly shows just how little the lives of innocents matter to the Stellaron Hunter. She mimes violin movements to Pachabel's canon as if she were in a field of flowers instead of the middle of a terrorist attack. Destruction might as well be music to her ears. A hidden morsel of lore in one of her Light Cone weapons also points toward her sinister side.
Fermata is a four-star Nihility Light Cone that you can buy from shops or pull from a gacha banner. The term means "a pause of unspecified length on a note or rest" in a musical composition. That might be why the Fermata Light Cone describes Kafka in bliss, as if she's listening to wind chimes instead of "hoarse shrieks":
The phonograph record is being played, spinning nonstop. Even the sounds of all those hoarse shrieks cannot escape the heatwave and are dampened by its tepidity. She seemed unprepared and utterly enthralled by the fascinating melodies: It started with sincerity and anticipation... ...followed by a passionate catharsis......with one climax after another......until the record's spinning came to a final stop and those hoarse shrieks were no longer audible. "Mission accomplished."
The above Reddit post about Fermata has several thousand upvotes, and it isn't the only one that points out the implications hidden in the text. The phonograph and "fascinating melodies" implies sound, perhaps similar to the orchestral music at the space station invasion. "Hoarse shrieks" are where the description takes a dark turn. Many commenters envision a scene where Kafka ends multiple lives during the course of a song, perhaps even to the beat of the music. The "Mission accomplished" also highlights that it's probably violence instead of a steamy sex scene.
"The obvious interpretation is 'haha, sex' but I'm pretty sure it's meant to refer to Kafka going on a murder spree with that last 'Mission Accomplished', which makes this rather disturbing. I guess "one climax after another" is the consecutive endings of lives and the "hoarse shrieks" are actual dying cries," one commenter explains. "The pornographic method of writing makes it a lot more uncomfortable with that interpretation since it implies Kafka thinks of and enjoys killing like that."
There's more than one interpretation to the Light Cone lore. This one also matches up nicely with Kafka's potential namesake, though. Franz Kafka, a German novelist, was known for his stories about the horror in the mundane. The Metamorphosis, one of his most popular novellas, is about a man who suddenly turns into a cockroach. Either way, it seems Kafka from Honkai: Star Rail is destined to take a dark turn, sooner or later.