Everything We Know About Yukong, Honkai: Star Rail's Lovesick Former Pilot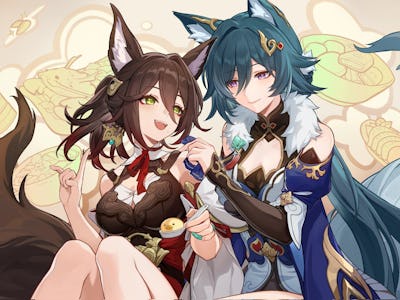 HoYoverse
Yukong isn't as delicate as she looks. She's just one of the many characters from HoYoverse's latest sci-fi fantasy RPG, Honkai: Star Rail. The fox-eared lady was once an ace military pilot but retired after a particularly traumatic battle — but she still longs for the skies.
Players may have already encountered Tingyun, a Lightning Harmony character who's also Foxian, one of Xianzhou Luofu's special long-life species. The player-character — the Trailblazer— met Yukong when Tingyun brought them to the Skyfaring Commission, where the former pilot started working after she left the military. She's a four-star character like Tingyun, but she might offer you the specific elemental damage and stat-boosting support you've been looking for.
Here's everything we know about Yukong so far.
Honkai: Star Rail Yukong Release Date
Yukong is scheduled to come in Honkai: Star Rail 1.1, which has an estimated release date of June 7.
HoYoverse reportedly already confirmed the 1.1 character lineup on Chinese social media app, Weibo. It didn't specify if Yukong would run on Silver Wolf or Luocha's banner. She might come out later if she runs in the second phase of the update.
Like Genshin Impact, three four-star characters receive boosted drop rates on limited-time banners, so you will have a better chance at pulling for Yukong when she debuts.
What Are Yukong's Abilities in Honkai: Star Rail?
Yukong is an Imaginary Harmony character, a character wielding the Imaginary element with powerful support abilities. Mero, who now leaks both Honkai: Star Rail and Genshin Impact info, shared a graphic detailing Yukong's abilities. Her Ultimate buffs Crit DMG and Crit Rate, stats crucial to any primary damage-dealer. At this time of writing, only 5-star character Bronya can buff Crit DMG for teammates.
As per Mero, these are Yukong's notable abilities at Level 9:
Normal Attack: Arrowslinger - Deals 130 percent of Yukong's ATK to target enemy.
Skill: Emboldening Salvo - Obtains (up to) two stacks of Roaring Bowstrings (to a maximum of two stacks). When Roaring Bowstrings is active, the ATK of all allies increases by 75 percent, and 1 stack of Roaring Bowstrings is removed after every turn by an ally, except for the turn in which Yukong gains Roaring Bowstrings by unleashing Skills.
Ultra: Diving Kestrel - When using her Ultimate, if Roaring Bowstrings is active on Yukong, all allies' CRIT Rate additionally increases by 27 percent and CRIT DMG increases by 62 percent. At the same time, deals Imaginary DMG equal to 361 percent of Yukong's ATK to a single enemy.
Passive: Seven Layers, One Arrow - Basic Attacks deal 75 percent of Yukong's ATK as Imaginary DMG to a target enemy, and increases the Toughness-Reducing DMG of this attack by 100 percent. This effect can be triggered once every two turns.
What Is Yukong's Backstory in Honkai: Star Rail?
Yukong already has her character stories circulating online. The Past and Future Light Cone also have a fierce and sorrowful Yukong in its preview picture, presumably from her piloting days. She apparently had a beloved that she lost in that unnamed conflict.
She also has a close relationship with Tingyun. You can see a child version of the Foxian girl in her splash art. However, Tingyun also directly says to the Trailblazer that Yukong is pleasant to talk to outside of work. She calls her "old girl," as Yukong is apparently 246 years old. Like many species aboard the Xianzhou Luofu, members of the Foxian race live a couple of hundred years.