Top Gun: Maverick is a danger zone of summer movie perfection
A sequel to the era-defining 1986 classic, Top Gun: Maverick soars past its legacy as an almost-perfect immersive thrill ride.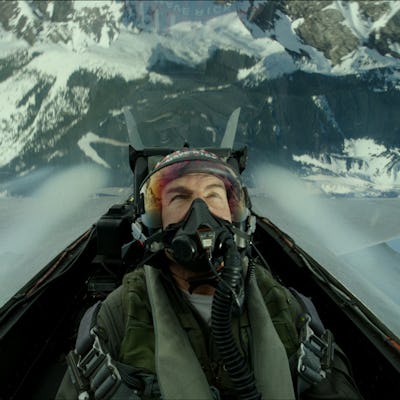 Paramount Pictures
The key to Top Gun: Maverick isn't soaring higher and faster. It's flying low and at pace.
Here's the mission: An underground uranium lab that shouldn't exist is vulnerable at a target three meters wide. It lies between the steepest mountain peaks you've ever seen, lined by anti-air missiles that seek jets like magnets seek metal. Flying too high means certain death-by-missile, and flying at near 90-degree verticality means enduring the maximum G-force the human body can take. Weight pressure increases. Your breathing slows. You black out. Living to tell about it means threading the needle while drowning in the haystack.
Precision, skill, and a breathless experience are all that define Top Gun: Maverick, now in theaters. Over 35 years after Tom Cruise felt the need for speed in Tony Scott's bombastic 1986 classic, Cruise once again takes flight, this time with Oblivion director Joseph Kosinski at the helm.
Not unlike Cruise's collaborations with Mission: Impossible's Christopher McQuarrie, who has screenwriting credit on Maverick, Cruise/Kosinski's team-up is textured with unmistakable realism and eye-popping immersion. Maverick is truly one for the ages in its deliverance of a distilled summer blockbuster whose thrills are strong enough to inspire highs totally indistinguishable from narcotics. Beware, and welcome to the Danger Zone.
In Top Gun: Maverick, Captain "Maverick" Mitchell (Cruise) is just a little over the hill. He's of undetermined advanced age yet still a captain. Those of his era, sturdy men played by Ed Harris and Jon Hamm, raise eyebrows about why he's not yet moved on. He could be a politician, one points out. To keep flying as Maverick does — he starts the movie risking his life to fly at an impossible 10.0 mach speed — is a young man's game. But there's still a need for men like Maverick.
"Textured with unmistakable realism and eye-popping immersion."
With a script by Ehren Kruger, Eric Warren Singer, and McQuarrie, Maverick is built on functionally sturdy grounds. The aforementioned uranium lab will be a threat to the world in a few weeks' time so Maverick is recruited to school the best naval pilots. One of them is Lt. Bradley ("Rooster"), son of Maverick's fallen partner "Goose" (Nick Bradshaw in the first film). Rooster is played by a beefy, mustached Miles Teller.
We quickly learn there's resentment from Rooster towards Maverick, for reasons the film carefully but simply unravels across its lean two-hour runtime. Their narrative load blows a little early, however, leading to a technically suspenseful but emotionally risk-free climax that could have used more oomph from their emotionally-charged tensions.
The story Top Gun: Maverick tells is at once impactful in its romance for the past, and only sometimes contradictory. "No time to think about the past" is uttered at least once in a movie replete with loving nods to 1986, down to Cruise's improbably running Kawasaki Ninja 900 (now a vintage piece) and another thirsty montage of sweaty, marble-chiseled bodies playing on the beach, all framed by cinematographer Claudio Miranda in golden sunset tones.
Maverick cherishes its past, while still moving its narrative forward. That is best exemplified by Val Kilmer's brief but reverent return as "Iceman." His ethereal presence is weighted by the actor's real-life struggles and our wishes to see him live peacefully. Analogous to the past, Iceman is echoed in Rooster's own rival, Glenn Powell's similarly beefcaked "Hangman." However, Top Gun's history gets a slight tweak with Jennifer Connelly taking over for Kelly McGillis as Maverick's new love interest. Playing Penny, a bartender and single mother, Connelly is as much a vision McGillis was, framed in close-ups with intimate underpinnings.
Much of the movie's thematic contradictions can be summed up by an early exchange when Cruise's Maverick is dismissed as an "old relic." He will one day be phased out by the future's automation. With a Hollywood smirk only Cruise is capable of, he retorts, "Not today." It's applause-worthy bravado with a whiff of sad futility. Even Maverick knows the future is coming.
"Maverick is truly one for the ages."
But nothing of Maverick's B-story can hold back an A+ spectacle. Whereas the original Top Gun wrote the playbook for the modern summer blockbuster, transforming cinema into rollicking Navy propaganda, Maverick nimbly jockeys around expectations (yes, there's a "Danger Zone" needle drop, and yes, it's still a banger) by succeeding through unbelievable immersion.
In an ecosystem ruled by weightless superhero effects, Maverick stands apart with tactile, "we-did-it-for-real" practicality that has long been Cruise's appeal. The A-list actor's eagerness to push arbitrary limits he alone sets in the Mission: Impossible films are cranked up as meta-text in the Top Gun sequel.
It's impossible not to feel the thrills Maverick and his classroom of cocky millennial pilots experience, thanks to the camera's frequent placement inside the cockpits. While there's surely some VFX at play, Maverick's realistic textures come through in its marriage of cutting-edge filmmaking tech with the legitimacy of flights performed in-camera. IMAX cameras have evolved to such a point they can now be rigged inside the cockpits of F/A-18 Super Hornets, which are flown for real in Maverick.
"Nothing of Maverick's B-story can hold back an A+ spectacle."
To put it mildly, the end result is awe-inspiring. The movie magically generates anticipation for its own set-pieces, with every scene on the ground full of the same pregnant suspense that you experience on rollercoasters before the first drop. If dying and going to heaven can ever be captured on camera, it might look like scenes from Maverick.
When Top Gun: Maverick hits, and it does often, it strikes with supersonic booms. It isn't an exercise in nostalgia as much as it is an attempt to reconcile remembrance for what happened before and excitement for what's possible now. For all its flaws in the script — and for me personally, a waste of The Good Place's Manny Jacinto — there are riches on the ground and heavenly perfection in the skies. It is escapist entertainment at its best, and in an era of overly-busy, high concept Hollywood releases, Maverick shows flying to the heavens isn't all it's cracked up to be. Instead, at the right speed, keeping close to Earth can still take your breath away.
Top Gun: Maverick is now playing in theaters.