Honkai: Star Rail Theory Teases Kafka's Complicated Past
You can cut the tension between these two with a knife.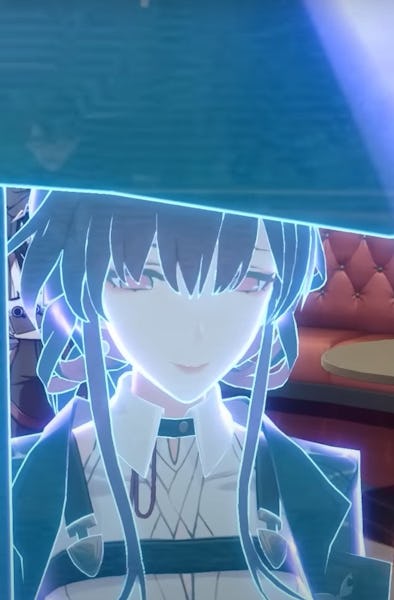 HoYoverse
Since the beginning of Honkai: Star Rail, the Trailblazer and the Astral Express crew have been butting heads with the stylish and suave Stellaron Hunter Kafka. While the player is just as clueless as the Trailblazer as to what is going on most of the time, we do get the impression that Kafka is a new threat to the Astral Express.
But a new video coinciding with the release of Kafka's banner hints that the Stellaron Hunter may have a more complicated past with a certain navigator than we realized.
In the latest Keeping up with Star Rail video, Host Owlbert invites Himeko, the Astral Express's navigator, to discuss Kafka. While it seems natural considering they are enemies, Owlebert drops an intriguing crumb by stating that he invited Himeko on since she is "rumored to have had several encounters with Kafka."
In response, Himeko states that these previous encounters are "little more than footnotes to a bigger journey." While this doesn't seem like much, it goes against what the game has previously told us about the relationship between Kafka and Himeko up to this point in the story.
One of the most memorable moments in Honkai: Star Rail's story so far has been Kafka's confrontation of the Astral Express crew in hologram form directly following the vents of Jarilo-VI. She is there to convince the crew to change course and head to the Xianzhou Luofu. During this conversation, Himeko remarks she has seen Kafka's face before but only on a corporate wanted poster.
Kafka also teasingly introduces herself to Himeko with a simple "Himeko, correct?" These interactions give the impression to the player that the two haven't met. But based on what Himeko says in Keeping up with Star Rail, that isn't the case.
This wouldn't be the first time two characters knew each other but didn't tell the full story, though it gets a little complicated due to multiple universes. For example, Welt joined the Astral Express to work with Himeko, as he came from a dimension where his version of Himeko was like a daughter to him but sadly perished (this is the universe of Honkai Impact 3rd). A version of Kafka also exists in that universe but the two don't have that much of a relationship.
Another possibility is that Kafka's role as a servant of Elio explains how she might already know Himeko. Elio claims to be able to predict the future, and the Stellaron Hunters that serve him follow his "script" as the game describes it. One possibility is that Elio can repeat scenarios in a Groundhog Day manner to get things exactly as he wants them, and Kafka has lived through multiple lives like this, having met the Astral Express crew before.
A much simpler, but incredibly popular theory is that the reason Kafka and Himeko have had previous encounters but they seem to pretend otherwise around others is that they have a far more complicated past. Plenty of fans read this as romantic, with the two often head cannoned as exes. This means in some ways they are just teasing each other constantly in conversation by acting like they don't know the other. Even if that isn't the case it does make sense for the two to have some troubled relationship history that connects them, just based on motifs the game uses for the characters.
Himeko is shown to be fond of roses and wears multiple pieces of rose jewelry on her outfit at all times, Kafka's "A Dramatic Irony" trailer has rose petals falling around Kafka and in combat throughout it. Similarly, Kafka's imagery heavily involves threads that allude to the threads of destiny, while Himeko states her interest in pulling apart the threads of possibility.
As of version 1.2, when the Trailblazer mentions to Himeko that they will be going to see Kafka, Himeko expresses an innate trust in the Stellaron Hunter. She believes that even though Kafka is a criminal, the Trailblazer will be safe with her. It's a strange belief to have in someone Himeko barely knows.
Honkai: Star Rail is currently available on iOS, Android, and PC.