Rick and Morty Season 7 Episode 6 Release Date, Time, Trailer, and Plot for "Rickfending Your Morty"
After last week's epic showdown, what will Rick and Morty do next?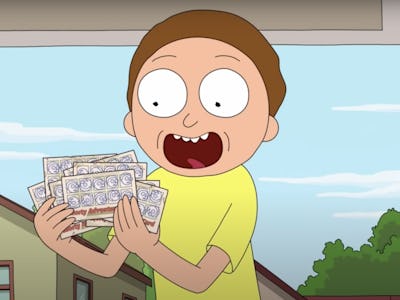 After an epic confrontation against his white whale nemesis Rick Prime in "Unmortricken," Rick and Morty's protagonist Rick Sanchez finds himself at a crossroads in Season 7 Episode 6. What does life look like now that he's lost the purpose that's driven him for years? He got revenge against his wife's murderer so now all he has left is his big brain and a motley assortment of Smith family members — mostly from different dimensions.
Here's everything you need to know about Rick and Morty Season 7 Episode 6, including the release date and time, episode title, teaser trailer, and more.
When Is the Rick and Morty Season 7 Episode 6 Release Date?
Episode 5 of Rick and Morty Season 7 airs Sunday, November 19, 2023.
When Is the Rick and Morty Season 7 Episode 6 Release Time?
Rick and Morty Season 7 airs Sunday nights at 11 p.m. Eastern.
Is There a Trailer for Rick and Morty Season 7, Episode 6?
The promo for Episode 6 aired right after Episode 5 concluded, and it opens on Rick lying on the floor of the garage with cans and bottles of booze all around him. Morty offers his services on any potential adventures. When Rick shoots him down, Morty whips out a stack of Morty Adventure Cards.
Based on the clip, he's got at least 10 of these bad boys. "This stinks to high heaven, Morty!" Rick says. "I'm not accepting these!" That's when Morty whips out at least four pages of "receipts" scrawled on typical lined notebook paper. The front page includes the following off-screen adventures:
Memory Planet!!
Memory of Memory Planet
Labradoodle Brain Hoaz
Interplanetary Cricket World
Isle of the Morty Sa…
Begax baby Zombie Apocalypse
Dark Brunch
Regional Plumbing Convention
Takes one to Know one
Getting Good at Yo-Yo Tricks
Chicken Sandwich Waffle
Soda Can Grenade Business
Series co-creator Dan Harmon has previously shared Post-It notes of random story ideas from the writers' room, so I wouldn't be surprised if these are all deeply silly ideas that will never see the light of day. Then again, some of these are just funny jokes — or good ideas for a sandwich.
"Don't grift a grifter, Morty. I have friends in cosmic places," Rick says while calling someone on his cell phone. "Yeah, I need an audit."
What is the Plot of Rick and Morty Season 7, Episode 6?
The Morty Adventure Cards were created as a result of Rick and Morty's bet in the Season 1 episode "Meeseeks and Destroy." After Morty threatened to quit, Rick agreed to let him dictate the next adventure. If it turned out to be a success, then he'd get to pick every tenth adventure. Morty wins the bet and begins using these punch cards to keep track, only occasionally using them to force Rick on an adventure, like in "Vindicators 3: The Return of Worldender."
In the wake of finally defeating Rick Prime, Rick is feeling pretty listless. Morty whips out the Adventure Cards to force him out of the house almost like a best friend forcing his buddy to go with him to the gym after a big breakup rather than stay at home watching Your Name on repeat. Whether or not some of these are forgeries or how accurate Morty's "receipts" are, Rick remains suspicious of their authenticity and calls in an audit from his "friends in cosmic places." So…what does that even mean?
An audit is an official inspection of an account, with the most prominent example being a tax audit. If the Internal Revenue Service is suspicious of a person's or entity's tax filing, they might conduct an audit to verify the authenticity of the paper trail verifying everything. So it would seem that Rick has contacts at some kind of cosmic agency that can verify Morty's claims.
Rick and Morty Season 7 Episode 6 is called "Rickfending Your Morty," which seems to be a riff on the 1991 film Defending Your Life in which a recently deceased advertising executive named Daniel Miller (Albert Brooks) finds himself on trial in the afterlife. Those who conquered their fears in life move on to the next phase of existence, but if the judges rule a person's life a failure, then they are reincarnated to try again. Amidst this drama is a budding romance with Meryl Streep's angelic Julia who's destined to move on.
Per usual, Rick and Morty will probably utilize scant aspects of that plot, but Defending Your Life is a deeply weird but charming story worth a watch that emboldens the viewer to seize the day.
"Gotta keep those receipts, dawg," reads the episode's logline with an image set in some kind of arcade that looks pretty terrestrial — so it's probably not Blips and Chitz, the alien arcade that's been featured several times in the past.
So what's the deal here? My best guess is that we're looking at this season's anthological episode akin to Interdimensional Cable or "Morty's Mind Blowers." Those sorts of episodes typically pop up as Episode 8, but the setup here seems too spot-on to be anything else. These cosmic auditors, whoever they are, can probably access memories or straight-up use time travel to verify the authenticity of Morty's claims. So maybe we'll actually see weird stuff like the Regional Plumbing Convention.
The Season 7 trailer does have a few scenes that haven't been featured in an episode yet that might factor in here:
Rick turns himself into a leg
Rick shoots a zombie back into its grave
Rick and Morty as Blade-style vampire hunters
Summer testing an amulet to see if it's cursed
Rick and Morty wearing cardboard boxes while getting attacked by a T-shirt
Rick with a bunch of tiny Rick heads on the tips of his fingers
Morty jumping at some kind of superpowered white space gorilla and licking the inside of its nostril
How to Watch Rick and Morty Season 7 Episode 6 Online
The official Adult Swim website also has a simulcast 24/7, so you can watch the new episode live as it airs either on the website or on the Adult Swim app. The website and app still require a cable TV login, however. (This still requires some kind of cable login, however).
Another option is to purchase the episode or the entire season on iTunes or Amazon Prime Video. You probably won't be able to watch it as it airs, however. All of Season 7 will eventually come to Hulu and Max, but that won't be for quite a few months after Season 7 concludes.
How Many Episodes of Rick and Morty Season 7 Are Left?
Almost every Rick and Morty season has been 10 episodes, and that's the case for Season 7. Therefore, there are only four more after Episode 6 airs. Despite Episode 5 being such a bombshell of a story with huge canonical implications, the show did not go on a break right after, which sometimes happens.
There's still a strong chance that the show might go on a hiatus at some point this season, but if that doesn't happen after Episode 6 then it probably won't happen at all. Rick and Morty went on a hiatus for six weeks after Season 6 Episode 6 aired on October 9, 2022. Could something similar happen for Season 7?