Rick and Morty Season 7 May Be the Final Nail in the Coffin for This Once-Brilliant Cartoon
Has Rick and Morty run out of ideas?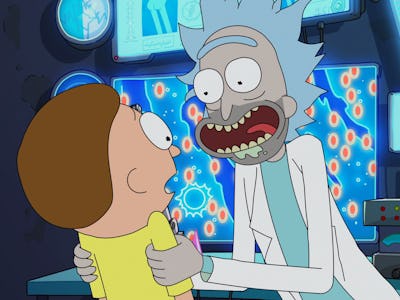 Adult Swim
Writing this review of Rick and Morty Season 7 is going to be very difficult for three reasons. 1) Rick and Morty has become so popular that, at this point, you're either a diehard fan or you refuse to watch it on principle. Either way, this review probably isn't going to change your mind on the show. 2) The controversy around Justin Roiland's firing and replacement only heightens the strong opinions we all already have about Rick and Morty. 3) Adult Swim sent me a list of spoilers to avoid that basically kneecaps any attempt to describe anything that actually happens in the first two episodes of Season 7 provided for review.
Nevertheless, the gods demand a blood sacrifice review. So here we are. Based on what I've seen so far, Rick and Morty is mostly more of the same. The first two episodes don't do much to advance the overarching plot but also fail to recapture the magic of the show's best standalone episodes. They're fun, but pretty basic.
The Rick and Morty formula should be simple: parody a genre or trope, introduce a clever twist, and occasionally say something about canon. But as we enter the back half of the show's 100-episode deal with Adult Swim, it's become increasingly clear that the once-brilliant sci-fi cartoon has run out of ideas, and we may be at the very start of a long and painful slog to the finish — even if there's still some fun to be had along the way.
The state of Rick and Morty
Rick and Morty has gone through several distinct phases. There was the original run, which established the show as an instant classic thanks to its sci-fi parodies and heartfelt monologues (many of which seemed plucked straight from the brain of co-showrunner Dan Harmon). Then, at the end of Season 2, the show took a wild turn, establishing oodles of lore around Rick and his history as an intergalactic freedom fighter, only to end on a wild cliffhanger. The very long wait for Season 3 seemingly broke the brains of a lot of fans to the point that, when the show finally did return, it somehow caused riots at McDonald's restaurants across the country.
Since then, Rick and Morty has oscillated between trying to return to that original parody-of-the-week format and big juicy lore dumps. But 60 episodes in, we're running out of things to parody and the show's canon has become so complicated that even the nerdiest fans have trouble keeping track of the plot. Season 7's opening episodes don't do much to fix either of those issues. I'll get to exactly why in a moment, but first, there's something else that needs to be addressed.
Justin Roiland's replacements
I won't go into why Roiland is no longer associated with Rick and Morty (you probably already know, and if not, just Google it), but it's worth discussing how this impacts the show itself. The short answer is: not really at all. Morty's voice sounds exactly the same as before. Rick's seemed slightly off for the first few minutes, but I quickly adjusted. If you went back in time and showed this episode to a fan, they'd assume Justin Roiland was still voicing the characters.
As for who is voicing the characters now, we weirdly don't know. There's been no official announcement of the new voice cast, and the screeners I got noticeably omitted the show's credits entirely. Adult Swim will eventually have to reveal who's playing Rick and Morty moving forward, but until then, your guess is as good as mine. (Could it be an AI? Almost definitely not, but that's a fun conspiracy theory.)
When I asked Adult Swim for more info, I received the following official statement:
"We want the show to speak for itself. We believe in the strength of the season and our new voices and we want to preserve the viewing experience for fans."
Spoilers?
Haha, nice try. I won't be spoiling anything here, but I'll do my best to say what I can about the plot of Rick and Morty Season 7 Episodes 1 and 2. The series opens with a brief mention of Rick Prime, the evil version of Rick who murdered the main Rick's wife and daughter, setting our protagonist on his current path of murder and alcohol abuse. Rick is looking for Rick Prime, but not having much luck, so when the opportunity for a distraction presents itself, he goes for it.
That's pretty much all I can say. Episode 1 plays with the boys' night-out trope while introducing a few fun twists. Meanwhile, Episode 2 takes on the body-swapping genre with a mix of comedy and Cronenberg-esque horror.
Both episodes are harmless fun. I enjoyed watching them, but afterward, I felt a pang of disappointment. After yet another long wait, Rick and Morty is back. But it's not the show I fell in love with when "Rixty Minutes" aired back in early 2014. And it's not the show I became obsessed with after that Season 2 finale in the fall of 2015. Nine years after Rick and Morty debuted, it's still chugging along. Maybe the rest of Season 7 will change my mind, but for now, I'm not convinced Rick and Morty is worth keeping around for much longer. Let alone for 100 episodes.
Rick and Morty Season 7 premieres Saturday, October 15, on Adult Swim.