Rick and Morty Season 7 Needs to Steal the Best Doctor Who Trick
Just have Morty and Rick Regenerate. Problem solved.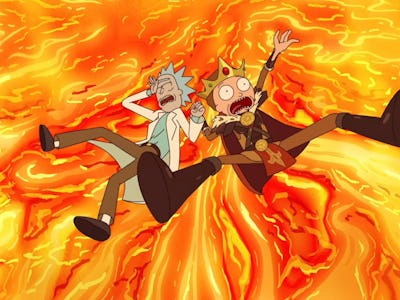 For nearly a decade, so much of Adult Swim's Rick and Morty has been co-creator Justin Roiland screaming at himself. Roiland has voiced both the gravelly alcoholic grandpa Rick and his grandson Morty's insecure, high-pitched stammer, not to mention a slew of other miscellaneous roles. But on January 24, Adult Swim announced via Twitter that it had "ended its association with Justin Roiland" following the filing of domestic abuse charges against him.
While it's unclear how much of Roiland's voice may remain in the upcoming Season 7, the series has already been renewed through Season 10. Sooner or later, the Rick and Morty production team will have to recast his roles. So they might as well take a page out of Doctor Who's book and make it an interesting way to revitalize the series.
The BBC's Doctor Who has been around for 60 years, chronicling the adventures of a time-traveling alien and their random human friends. As a Time Lord, the Doctor can rejuvenate upon their demise, instantly being reborn as a different person with the same memories. But it's really a trick to allow the long-running series to recast its lead role while maintaining continuity. Similar to how the James Bond movies casually put a new actor in the lead role but only occasionally reboot the franchise, it allows for ongoing procedural storytelling while keeping things fresh.
Whether Rick and Morty offers an in-universe explanation for Morty and Rick's new voices, the series ought to take this opportunity to make the roles a cultural touchstone in much the same way. Imagine this: a few months before each of the next Rick and Morty seasons premiere, Adult Swim hosts a special event or airs a teaser trailer here, announcing a new pair of voice actors for the season.
Stunt casting could be a fun way to ensure each season feels a bit different, allowing actors to leave their mark on the show. And because it'll always be temporary, higher-profile actors might be willing to give it a go. Even if fans don't like a certain actor, their displeasure won't last forever. Heck, they could replace the duo every five episodes if they wanted to.
Get weird. Have Danny DeVito be Rick and Charlie Day be Morty for a season. If everyone is happy, they can stick around for a bit. Pete Davidson has the kind of strangely meek personality and wiry voice to make a decent Morty. Veteran voice actor Maya Rudolph could play pretty much anyone, but based on her comedic chemistry with Will Arnett in the Christmas special for Netflix's Murderville, Rudolph as Morty and Arnett as Rick would be a match made in heaven. Arnett also has plenty of voice acting experience as the lead on BoJack Horseman.
And when Doctor Who gets a new actor, the creative talent behind the screen usually changes as well. This has already sort of happened on Rick and Morty. As co-creators, Justin Roiland and Dan Harmon used to be considered the showrunners. But Scott Marder came on as the executive producer and showrunner at the start of Season 5, with producer James Siciliano as his second-in-command. "We're the guys that keep the engines moving so Dan Harmon can come in, come out, do what he needs, and have fun as we keep it going," Marder told Inverse in an August 2022 interview.
It certainly seems like Harmon and Roiland have taken more of a supervising role in recent years, and The Rick and Morty writers' room has become an incubator for talent to establish itself before moving on. Jessica Gao was the lead writer on the Emmy award-winning episode "Pickle Rick" before going on to helm Marvel's She-Hulk series on Disney+. Similarly, writer Jeff Loveness is credited as the lead on "The Vat of Acid Episode," which also won an Emmy, and then he went on to write Ant-Man and the Wasp: Quantumania.
Maybe the lead voice actors can shuffle in and out in equal measure. Rick and Morty has long struggled with an identity crisis, in that its creators seem to want the show to be more procedural rather than focusing on serialized storylines. More recent seasons have done a great job balancing the two, but offering a soft reboot every season as new voice actors come in and move out could further help balance the show's priorities. Rick and Morty has to address the situation somehow and, in the spirit of the show's tone, it might as well get weird.