Peter Pan & Wendy May Break Disney's Streak of Bad Live-Action Remakes
Green Knight director David Lowery may help Disney find Neverland once again with an imaginative take on Peter Pan.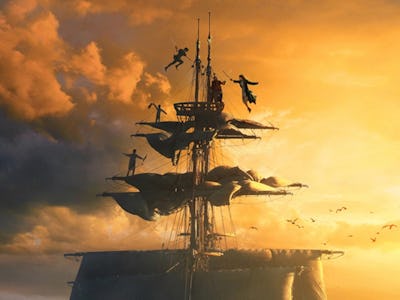 Peter Pan & Wendy/Disney Plus
Second star to the right and straight on 'til morning... The straight-to-Disney+ debut of Disney's Peter Pan remake is almost upon us.
Disney's recent photorealistic reboots from its Golden Age, Silver Age, and Renaissance animation eras haven't inspired much hope. Most have been dimly-lit storyboard-by-storyboard CGI rehashes of their far superior vibrant hand-drawn source material, like Pinocchio, Dumbo, and The Lion King, while others haven't added anything fresh to their respective fairytales, like Mulan and Beauty and the Beast. Exceptions to the Disney remake curse have been far and few in the past five years, and lifeless trailers for this summer's Little Mermaid live-action redux haven't exactly helped to rouse would-be audiences or sway critics.
But a trailer for Peter Pan & Wendy that dropped Tuesday may signal a shift in the tide. Directed by David Lowery, who is best known for directing and scribing the epic medieval fantasy film The Green Knight, this remake finally looks promising. While great movie trailers don't always equate to great movies, Peter Pan & Wendy offers exciting teases into a diverse cast, a more robust characterization of Wendy (Ever Gabo Anderson) and Tiger Lily (Alyssa Wapanatâhk), and an unrecognizable Jude Law as Captain Hook.
Though the film won't be screened in theaters, it certainly looks cinematic in the trailer, offering sweeping, detailed views of Neverland, glimmering mermaids, elaborate set designs, and some impressive shots in London. Peter Pan & Wendy's (seemingly) sepia, earthy-toned aesthetics are reminiscent of Lowery's The Green Knight, as well as the filmmaker's first live-action remake for Disney, 2016's highly underrated and thoroughly enchanting Pete's Dragon.
Peter Pan & Wendy may be based on Disney's 1953 animated film Peter Pan and the 1904 play Peter Pan; or, the Boy Who Wouldn't Group Up by J.M. Barrie, but it does appear that Lowery's Peter Pan & Wendy screenplay (which he penned along with his Pete's Dragon co-writer Toby Halbrooks) is taking creative risks with the IP. Sure, iconic scenes like Wendy and her siblings taking a leap of faith with Peter atop Big Ben made the cut, but so too do wholly original scenes showcasing the origins of some of the fairytale's characters. (Plus, there are girls in The Lost Boys!)
Lowery may bring the movie magic that Disney needs to lift its own self-inflicted remake curse.
Peter Pan & Wendy soars to Disney+ on April 28.