How to Train Your Dragon Remake Proves Terrible Disney Trend isn't Going Away
Disney's washed-out Little Mermaid remake hasn't ended the live-action trend.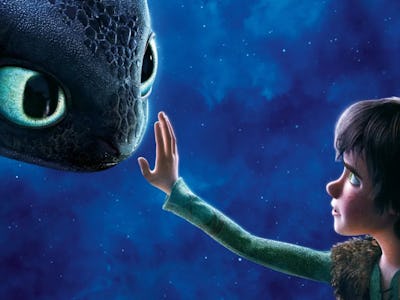 Move over, House of the Dragon: Gronckles, Hotburples, Deadly Nadders, Hideous Zipplebacks, and Monstrous Nightmares are all headed back to the big screen, this time forgoing cartoonish charms for CGI.
Universal Pictures announced yesterday that How to Train Your Dragon, one of DreamWorks Animation's most consistently excellent film franchises, will be getting a live-action revival. Dean DeBlois, the filmmaker behind the original 2010s trilogy starring the voice talents of comedian Jay Baruchel, is helming the "realistic" remake. How to Train Your Dragon will break ground as the first live-action remake to be steered by the same creator as its animated source material. DeBlois will be getting an assist from veteran movie and theater producer Marc Platt.
The live-action movie is already in the works. Insiders (ambiguously) suggested to The Hollywood Reporter that the studio took several months to settle on a budget deemed "right and palatable" for the movie's ambitions, and that the casting process was underway. It has big shoes to fill: the animated trilogy boasted a stellar celebrity stunt voice cast, a rousing John Powell score, some laugh-out-loud gags, and cutting-edge animation. What really made it popular among viewers, however, was its coming-of-age story, where characters — both human and dragon — aged with each installment, allowing the emotional stakes to grow as well.
The animated trilogy was an acclaimed commercial success, scoring $1.6 billion at the box office and receiving recognition during awards season. There were also three television shows, and the franchise will receive its own section at Universal Studios' forthcoming Epic Universe park, set for a Summer 2025 opening in Orlando, Florida.
The Inverse Analysis — So why does Universal feel the need to subject How to Train Your Dragon to the live-action treatment?
Blame it on Disney's photorealistic remakes agenda, which has at least 10 more years worth of live-action adaptations of its animated classics down the pipeline. Coming up in 2023 and 2024 are The Little Mermaid, Peter Pan & Wendy, Snow White, and Mufasa: The Lion King, followed by planned remakes of Hercules, The Hunchback of Notre Dame, The Sword in the Stone, Bambi, Robin Hood, The Aristocats, and Lilo & Stitch. And those are only the confirmed titles. It's exhausting just to read all the names, let alone watch them.
Disney's photorealistic remakes over the past decade have largely been misses, garnering abysmal reviews (Pinocchio, Dumbo) and little fanfare (Lady and the Tramp), no matter their star-studded casts, celebrated directors, or technically impressive CGI. Some hits, like Cinderella, Cruella, Aladdin, and The Jungle Book, at least injected something new and exciting into their respective fairytales. But Disney has mostly played it safe with dull, copycat re-renderings of its vibrant, trailblazing animated IP, and it's paid off. Their soulless remakes have made bank at the box office and have garnered loads of views on the brand's streaming platform.
Even Disney's The Little Mermaid redux, which appears to have been colorized entirely in grayscale, will surely drive crowds to the theaters this May, if only to hear Halle Bailey and Melissa McCarthy sing the iconic songs. Disney's photorealistic remake formula may not have cultural or aesthetic significance, but it does rake in the moolah, and in Hollywood, that's enough justification to follow the trend.
Perhaps the one beacon of hope suggesting How to Train Your Dragon's live-action adaptation won't be superfluous (or a total stinker), is that DeBlois will be overseeing the transfer of his beloved story's visual medium. DeBlois' hand in the project may lead to visual and narrative quality control. Who knows? The remake may even surprise audiences with a refreshed perspective and additions to the franchise's lore, rather than a panel-by-panel rehash of its source material's tried-and-true storyboard.
How to Train Your Dragon is slated for a March 14, 2025 theatrical release.