Inverse's 23 most anticipated movies of 2023
These are the movies we can't wait to see this year.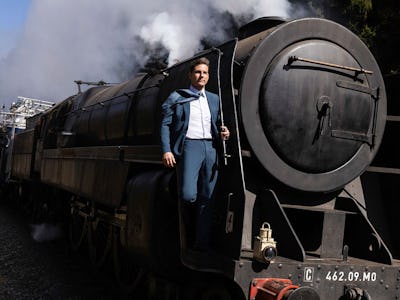 What a time it is to be a movie fan. Whether you are excited for the next superhero sequels or the weirdest sci-fi indie, 2023 looks to offer everything a growing cinephile could need.
From neon-drenched hitman fourquels, to sandy sci-fi odysseys, to the last hurrah for our favorite galaxy-protecting idiots, 2023 is shaping up to be a pretty good year for franchises. And outside of the sequel mania, we have a swan song for the greatest anime auteur, a surreal drama featuring too many Joaquin Phoenixes, and a bear that ingested too much cocaine.
Here are the 23 movies Inverse is looking forward to the most in 2023 according to our staff and contributors.
Knock at the Cabin
Release date: February 3, 2023
Suspenseful and often confounding, you can never accuse horror auteur M. Night Shyamalan of being boring. Nevertheless, his previous film Old, set on a time-defying beach, presented a return to form for the lover of twist endings. Knock at the Cabin, arriving February, is billed as a cabin in the woods set-up mixed with the specter of the apocalypse. It's a more conventional set-up than we might expect from Shyamalan. But with a stacked cast featuring Dave Bautista, Rupert Grint, Jonathan Groff, Abby Quinn, and Nikki Amuka-Bird — actors who know how to hold a card or two up their sleeve — you know a surprise is lurking. — Robert Daniels
Cocaine Bear
Release date: February 24, 2023
It's hard to say anything that would hype up Cocaine Bear more than just the premise: It's about a bear who accidentally ingests cocaine and goes on a murderous rampage. Just that should be enough of a sell, but an ensemble cast including, randomly, three stars of The Americans (Margo Martindale, Keri Russell, and Matthew Rhys) and Star Wars alums O'Shea Jackson Jr. and Alden Ehrenreich doesn't hurt. Thanks to Elizabeth Banks' direction, this movie is sure to be campy, fun, action-packed, and incredibly self-aware. — Dais Johnston
Creed III
Release date: March 3, 2023
After two amazing rounds in the ring, Michael B. Jordan punches in the heavyweight class for his directorial debut, Creed III. Continuing the story of Adonis Creed, the boxing champ is challenged by a childhood friend (Jonathan Majors) who believes he's due for a shot at the title. Jordan has talked openly about how his love for anime has influenced his artistic choices. Citing the boxing manga Hajime no Ippo: "I really love the inner dialogue of what's going on and happening in the ring from the characters." We'll see how anime and Rocky collide when Creed III opens in March. — Eric Francisco
Dungeons & Dragons: Honor Among Thieves
Release date: March 3, 2023
Directed by Game Night filmmakers John Francis Daley and Jonathan Goldstein, the beloved tabletop franchise is given new life in Dungeons & Dragons: Honor Among Thieves. With no connections to the 2000-2012 trilogy, the fantasy sets itself in the Forgotten Realms campaign. Chris Pine, Michelle Rodriguez, Regé-Jean Page, Justice Smith, Sophia Lillis, Hugh Grant, and more star in this film which was originally poised to be released back in July of 2021 before being faced with studio delays. Despite the wait, the unadulterated scope of the premise and worldbuilding along with possible sequels is enough to have our attention. — Ally Johnson
John Wick: Chapter 4
Release date: March 24, 2023
While we missed our Neo-Morpheus adventure in The Matrix Resurrections, judging by the end of John Wick: Chapter 3 - Parabellum, the fourth installment in this regret-stricken hitman series will see Keanu Reeves and Laurence Fishburne together quite a bit as they go against the mysterious criminal hierarchy at the heart of the John Wick universe. While new addition Bill Skarsgård figures to provide further intrigue, the inclusion of action legends Donny Yen and Hiroyuki Sanada suggests that we can expect director Chad Stahelski's follow-up to showcase bigger, more outlandish set pieces, along with fight choreography that straddles the line between brutal and balletic. — Robert Daniels
Renfield
Release date: April 14, 2023
Nicholas Hoult, who has gained attention for his career-best comedic performance in The Great, and Nicolas Cage, who has gained attention for being Nicolas Cage, play Renfield and his boss, Dracula, in this comedic two-hander. Also starring Awkwafina and Ben Schwartz, this movie appears to be Horrible Bosses mixed with Nosferatu. After a decade of vampires slowly drifting from the brooding (Twilight) to the goofy (What We Do in the Shadows) Renfield will finally bring back that unadulterated Vampire's Kiss style of over-the-top Nic Cage paired nicely with a classic rom-com setup. — Dais Johnston
Suzume
Release date: April 14, 2023
Makoto Shinkai made the world swoon with his 2016 cosmic romance Your Name, the crossover hit that went on to become the third highest-grossing anime film of all time. And while his quiet eco-romance Weathering With You was slightly more confounding, Suzume looks to be a return to form. The set-up is intriguing: a high school girl and young man who are cosmically linked, a door floating in space that opens to another world, a plot to stop a series of disasters across Japan. Once again embedded in Shinkai's fascination with natural disasters, Suzume appears to be another stunning cosmic romance that could shake us to our core. — Hoai-Tran Bui
Guardians of the Galaxy Vol. 3
Release date: May 5, 2023
James Gunn may be jumping ship to lead DC's cinematic universe, but his journey as superhero movie architect began with the surprising, character-centric Guardians of the Galaxy and its equally emotional follow-up. Gunn's trilogy-ender is likely the last time this version of his found family will appear on screen — Star Lord, Drax, Gamora, Mantis, Nebula, Rocket, and Groot — and there's no better helmer than a filmmaker who feels in sync with both studio filmmaking and such idiosyncratic material. Marvel may have closed a major chapter with Avengers: Endgame, but Guardians of the Galaxy Vol. 3 is set to truly feel like the end of an era. — Siddhant Adlakha
Spider-Man: Across the Spider-Verse
Release date: June 2, 2023
2018's Spider-Man: Into the Spider-Verse told a superhero story unlike any that audiences had seen before — either visually or narratively. Its long-awaited follow-up, Spider-Man: Across the Spider-Verse, already looks like it's going to accomplish a similar feat this summer. Its early trailers have promised a multiversal adventure that features not only more alternate versions of Spider-Men than viewers will be able to count, but also more boundary-pushing animation styles and visuals than our eyes will know what to do with. To put it simply: Sign. Us. Up. — Alex Welch
Indiana Jones and the Dial of Destiny
Release date: June 30, 2023
15 years have passed since the last Indiana Jones movie. But for most, 34 years have passed since the last good one. The reasons why 2008's The Kingdom of the Crystal Skull didn't work have been enumerated ad nauseam, which could make a cynical fan wonder why there's some good buzz for The Dial of Destiny. The answer is twofold: director James Mangold delivered absolute brilliance with Logan in 2017, proving he's capable of making a movie about an aging action hero. The other reason: Phoebe Waller-Bridge is co-starring as Indy's goddaughter Helena. And her good taste alone should be enough to make even the most pessimistic viewer hopeful. — Ryan Britt
Mission: Impossible - Dead Reckoning Part One
Release date: July 14, 2023
If you wake up one day to read that Tom Cruise exploded while driving an exploding motorcycle through an exploding helicopter, at least you'll know he died doing what he loved. The aggressively punctuated Dead Reckoning will be the seventh installment in Cruise's gleeful celebration of practical effects, and while the plot is giving off dangerous whiffs of self-seriousness, the five-year wait since its predecessor should make every ludicrous stunt a joy to behold. — Mark Hill
How Do You Live?
Release date: July 14, 2023
Hayao Miyazaki returns from retirement (again) for what will likely be his final film ever. Based on the 1937 novel of the same name by Yoshino Genzaburo, How Do You Live? appears to have a very slim plot: 15-year-old Junichi Honda exchanges diary entries with his uncle, through which the two muse about life, friendships, and philosophy. But intriguingly, Miyazaki's Studio Ghibli has described his version as a "big fantastical film," which makes us think there will be at least one Catbus. Maybe two. Whatever the case (or number of Catbuses), How Do You Live? will likely be a lovely, lovingly made swan song for the anime auteur. — Hoai-Tran Bui
Barbie
Release date: July 21, 2023
Rumored to be a cross between The Truman Show, Life-Size, and Splash, Greta Gerwig's Barbie is set to be the frilliest and campiest movie of 2023. The summer film, starring Margot Robbie as the iconic plastic blonde bombshell and Ryan Gosling as her boy toy Ken, teases a sci-fi twist to the doll-out-of-Dreamhouse story. Gerwig, known best for the punchy coming-of-age flick Lady Bird and her fresh re-imagination of Little Women, is sure to have a few surprises up her sleeve for her fourth directorial feature. And we, for one, can't wait to go party with Gerwig's Barbie. — Mónica Marie Zorrilla
Oppenheimer
Release date: July 21, 2023
Christopher Nolan's reputation for opaque characters will be put to the test in Oppenheimer, but it's difficult to imagine anything less than a technical masterpiece. Based on the magisterial biography American Prometheus, Nolan will have to tackle both the ethical and scientific quandaries of the Manhattan Project, and pivotal moments in Oppenheimer's personal life, ranging from his tumultuous marriage to his red scare railroading. It's a tall task, but if anyone is up to the challenge, it's Hollywood's dorkiest auteur. — Mark Hill
Dune: Part Two
Release date: November 3, 2023
In the future, it's possible that we won't think of Denis Villeneuve's Dune as two separate movies. And that's because the promise of Villeneuve's Dune: Part Two is clear: to finish telling the story from Frank Herbert's first Dune novel. Unless something goes massively wrong behind the scenes, Dune: Part Two will be better, bigger, and more satisfying than the first one. The new cast members joining for Part Two are also all incredible talents. Come from Florence Pugh as Princess Irulan and Austin Butler as Feyd, but obviously, stay for Christopher Walken as Emperor Shaddam IV. And if Villeneuve does his job right, the distinctions between these two films will vanish in the sand. — Ryan Britt
Wish
Release date: November 22, 2023
If you've ever wished upon a star and wondered, "Hmm, what's the origin story behind that star?" then consider your wish granted. In honor of the company's 100th birthday, Walt Disney Animation Studios is celebrating with Wish. The animated musical adventure from the team behind Frozen combines Disney's beloved watercolor, two-dimensional illustrations with computer-generated imagery and more modern animation techniques. Adriana DeBose (Hamilton, West Side Story) stars as Princess Asha, who navigates Rosas, the kingdom of wishes, with her trusty sidekick Valentino (Alan Tudyk). Julia Michaels, who penned Justin Bieber's Sorry, will compose new songs for the movie. — Mónica Marie Zorrilla
Wonka
Release date: December 15, 2023
These days, origin stories are a dime-a-dozen, but with writer-director Paul King at the reins — the filmmaker behind instant family classics Paddington and Paddington 2 — Wonka becomes the rare must-watch prequel, as a musical lead-in to Roald Dahl's classic 1964 novel Charlie and the Chocolate Factory. Actor Timothée Chalamet has excelled while finding his personal brand of weird, whether as a psychic messiah in Dune or a tortured-but-lovable cannibal in Bones and All, and the role of chocolate magnate Willy Wonka (originated on screen by Gene Wilder in 1971) feels like the perfect place to flex those peculiarities. Besides, we know he has the musical chops. — Siddhant Adlakha
Aquaman and the Lost Kingdom
Release date: December 25, 2023
James Wan returns to direct this blockbuster sequel, which will see Jason Momoa's Arthur Curry (aka Aquaman) and Amber Heard's Mera facing off against Yahya Abdul-Mateen II's Black Manta once again. Plot details are scarce, but Wan told Total Film the sequel's story is inspired by 1965 sci-fi horror Planet of the Vampires, an Italian-Spanish cult classic about humans who crashland on a planet and have to fight off their deceased crewmates, whose bodies have been possessed by the indigenous inhabitants. It's been five years since Aquaman became the highest-grossing DCEU movie of all time. Will the aquatic superhero be able to inspire the same movie-going enthusiasm he did in 2018? — Kayti Burt
Beau is Afraid
Release date: TBD
Between his horrific debut Hereditary, and his gleefully sadistic follow-up Midsommar, it's clear that no matter what you think you know going into an Ari Aster project, you're still alone in the dark… which is exactly where he wants you. Initially described as a decades-spanning "nightmare-comedy," perhaps the most exciting thing about his upcoming Beau Is Afraid is precisely how little we know about it. There's a world-famous entrepreneur (played by Hollywood's most committed wildcard, Joaquin Phoenix) struggling with anxiety and mommy issues, a surrealist journey home, and a sinister supernatural threat — ingredients that could be hysterical or stomach-churning in Aster's hands. — Chrishaun Baker
Killers of the Flower Moon
Release date: TBD
Martin Scorsese is set to return this year with Killers of the Flower Moon, and his involvement alone would be enough to earn the movie a spot on this list. It's worth noting, though, that the film's cast includes Leonardo DiCaprio and Robert De Niro, two of Scorsese's most frequent collaborators. The film's story, which explores an FBI investigation into a series of murders in 1920s Oklahoma, makes it seem like a western crossed with a turn-of-the-century crime thriller. Scorsese has never made anything like that before, which only makes the film seem even more intriguing. — Alex Welch
MaXXXine
Release date: TBD
Ti West's X shocked audiences last year, not just for its brutality and sleazy stylishness, but also for the teaser trailer attached to the end of the film that announced a surprise follow-up. Pearl served as a prequel and an even more loving showcase for star Mia Goth, who played the dual roles of Maxine and Pearl in X. Goth will return as adult film star Maxine Minx in '80s L.A. in the third film: MaXXXine, which promises even more sex, blood, and star power courtesy of scream queen Goth. — Jessica Scott
Peter Pan & Wendy
Release date: TBD
Director David Lowery made critics sit down and take notice in 2021 with his epic medieval fantasy film The Green Knight. In 2023, his source material inspiration will be a bit more modern; Lowery is making a live-action adaptation of Disney's 1953 Peter Pan animated feature film, starring newcomer Alexander Molony. Though Peter Pan is a beloved literary character, adaptations of the J.M. Barrie 1094 stageplay don't always strike a chord with modern audiences. But with Lowery behind the camera and Jude Law on board as Captain Hook, this Disney+ release might just be one of the few good Disney live-action remakes. — Kayti Burt
Rebel Moon
Release date: TBD
When Zack Snyder oversaw the DC Universe, his vision hinged on the edges of its galactic universe. Now free from comic book canon, Snyder forges on his own path with his original sci-fi epic, Rebel Moon for Netflix. A space opera with a premise similar to Seven Samurai, Sofia Boutella stars as a young woman from a peaceful colony who is tasked with recruiting warriors to fight back against an invading warlord. Jena Malone, Charlie Hunham, Ray Fisher, Corey Stoll, Ed Skrein, Cary Elwes, Anthony Hopkins, and more round out the cast to Snyder's next must-stream feature. — Eric Francisco