'Pete's Dragon' Remake Gets the 'Where the Wild Things Are' Treatment in New Trailer
Here's our first look at the reimagining of Disney's newest family film.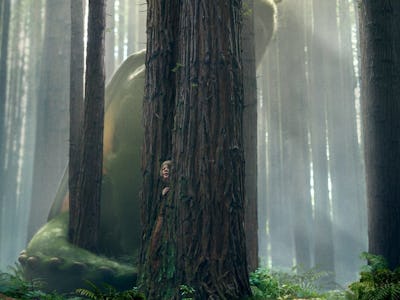 https://www.facebook.com/pages/Petes-Dragon-2016-film/368875126617240
A teaser trailer is a tease for a reason, so don't expect to see very much of the dragon in the first teaser trailer for director David Lowery's remake of the 1977 movie Pete's Dragon. The film, co-written by Lowery and screenwriter Toby Halbrooks, tells the story of an orphaned boy named Pete (Oakes Fegley) who spent six years wandering around a forest somewhere in the Pacific Northwest with his best friend, a dragon named Elliot.
Throw in Robert Redford as a bumbling old man whose forest ranger daughter, played by Bryce Dallas Howard, tries to figure out how Pete made his way back to civilization unscathed and you get Lowery's live action, semi-grounded take on the fanciful story.
We can't help but get some Where the Wild Things Are vibes from the look of things in this new movie. Spike Jonze's 2009 adaptation of children's author Maurice Sendak's classic tale of kids and monsters tried something a little different than most kid's movies, and Pete's Dragon is trying that sort of honest approach. It's not a kids movie, not an adult movie, but somewhere in the sweet spot in between that will allow the youths out there not to have the shit scared out of them and not have the adults be bored out of their minds for two hours.
Lowery, primarily known for writing and directing the indie outlaw drama Ain't Them Bodies Saints, seems to be added to the list of unorthodox choices for collaborators in kids movies. There Will Be Blood auteur P.T. Anderson most recently tackled a draft of a Pinocchio adaptation before dropping out, and indie filmmaker Alex Ross Perry will next tackle a new version of Winnie the Pooh.
The film also stars Wes Bentley, Karl Urban, and Oona Laurence. Pete's Dragon opens in theaters on August 12.