'Pete's Dragon' Was Tragically Overshadowed This Weekend
'Sausage Party', 'Pete's Dragon', and 'Suicide Squad' and more from this weekend's box office.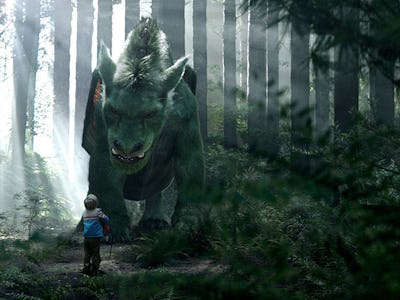 Walt Disney Pictures
By most metrics, Disney's live-action reboot of Pete's Dragon should have been a hit. The film did unexpectedly well with critics, and moviegoers who saw the film left more than pleasantly surprised, represented by the movie's "A" CinemaScore. Unfortunately this might not translate into a hit for a studio that has been dominating global box-office sales with its Marvel and Star Wars properties.
According to The Hollywood Reporter, Disney is hoping that strong word-of-mouth from those who did watch Pete's Dragon this weekend will boost the film in the long run. Until then, the film ended the weekend in third place, bringing in $21.5 million from 3,702 theaters its first week. The film boasts an 85 percent "Fresh" rating on RottenTomatoes, a better score than both Sausage Party and Suicide Squad.
Suicide Squad continues to repeat the narrative written earlier this year by Warner Bros' other DC live-action film, Batman v Superman: Dawn of Justice. The film dropped 67 percent after its first week, making it one of the biggest declines for a superhero film – and a near identical number to Batman v Superman's 69 percent drop. That said, the film took in another $43.8 million to bring the cumulative gross past the $200-million marker.
Seth Rogen's R-rated, animated comedy Sausage Party surprised analysts by opening to $33.6 million across 3,103 theaters. R-rated comedies, and even rarer R-rated animated films, have typically had a difficult time finding financial success, but Sausage Party has performed better than expected by surprising critics beyond the initial cheeky concept of sentient foods that feel pain. The allegorical story of living foods who discover that their belief in being purchased and eaten isn't what they envisioned is being hailed as a "humanist film 2016 needs."
Jason Bourne and Bad Moms rounded out the weekend as the fourth and fifth top-grossing film, respectively. Meryl Streep's Florence Foster Jenkins debuted to $6.6 million its opening weekend, similar to last year's Ricki and the Flash which also starred Streep.