Yo, 'Sausage Party' Is Not the First Animated Film for Adults
From Charlie Kaufman to Japanese masters, here are films animated for adults.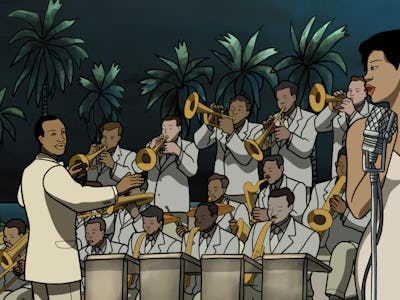 GKIDS
With Sausage Party ready to give American audiences a taste at the irreverence and boundary-pushing only an R-rated animated film can deliver, it's good to revisit some of the mature animated works produced abroad.
These films vary in art styles but tackle subject matter like love, sex, violence, and depression with a straightforward directness. So while films from Disney and Pixar often have mature emotions, they are skilled in weaving their more mature elements into kid friendly forms. Not so with some of the films on this list which are often made specifically for a mature audience.
Chico and Rita
Chico and Rita is a gorgeous film directed by Tono Errando, Fernando Trueba, and Javier Mariscal. This Spanish-language film is a romance modeled after the Latin ballads known as the bolero. So while Chico, a talented pianist, and Rita, a beautiful singer fall in love, the bolero genre is also full of heartbreak and tragedy. A tale of sex, drugs, love, and latin jazz, Chico and Rita was nominated for an Academy Award and won Spain's prestigious Goya Award for Best Animated Film.
The Fake
After an explosive debut at the 2012 Cannes Film Festival for his dark and twisted animated film The King of Pigs, Yeon Sang-ho followed up with The Fake in 2013. A story about a rural Korean village under the control of fake church who is conning the religious citizens out of their money and dignity. Yeon's films are dramas that are animated, his style is realistic and there is no fantastical elements to the animation. He merely uses the medium to create biting attacks on South Korean society.
Persepolis
People who have not watched the French language animated film Persepolis are often surprised by how mature the work is. Based on the autobiographical graphic novel of the same name by French-Iranian artist Marjane Satrapi, Satrapi directed her own comic's animated adaptation. After making waves after its 2007 premiere, Persepolis remains an essential viewing if only to appreciate French animation, Iranian history, and one of the best graphic novel adaptations in film history.
Anomalisa
Charlie Kaufman's stop-motion film about a sad man who can only hear the dulcet voice of Tom Noonan whenever someone speaks is a strange kind of love story. While the film features the only stop-motion sex scene in cinema, it's also an interesting analysis on how ego and self-importance trap people in their own living hell. As the film's conclusion makes the stop-motion work even more poignant with its twist ending, Anomalisa is the somber, surprising treatise about selfish men.
Wolf Children Ame and Yuki
Mamoru Hosoda builds fantastical anime worlds, only to anchor them with relatable heroes. The story is about a woman who marries a werewolf and gives birth to werewolf children. As they grow up, the twin children find themselves torn between their human lives, and their wolf instincts. While the film acts as a coming-of-age story for the two children, the emotional anchor remains the mother whose layered reactions bring human responses to the complicated nature of the people she loves.
The Illusionist
L'Illusionniste from French animation auteur Sylvain Chomet is a visually European animated feature, drawing inspirations from French comics and artists. The joint Scottish-French production takes place in 1959 where a down-on-his-luck magician leaves Paris to book smaller and smaller gigs through London and eventually Scotland. After picking up a traveling companion, the magician and Alice continue to travel together in search of more gigs. An animated road movie, The Illusionist is a somber, but jovially animated film about the tribulations of the creative process. Almost breaking the fourth-wall in a neat, end-credit twist, The Illusionist is a joyously animated film that recalls a uniquely European style of illustration.
The Garden of Words
Makoto Shinkai is a Japanese wunderkind once hailed as the next Hayao Miyazaki. Where the two diverge, however, is Shinkai's fascination interest in people than in worlds. Whereas Miyazaki creates wondrous adventures in fantastical settings, Shinkai's work focuses on human relationships, even if he uses science-fiction as a backdrop for these stories. However, The Garden of Words takes place in modern day Tokyo when an aspiring shoe designer meets a lonely woman at a nature park. The two become something close to kindred spirits despite their considerable age gap. Heartache and coming-of-age ensues.
Shinkai's work is characterized by his intense attention to detail, and luscious animation work. It's often hard to believe that his work maintains that level of care and attention in feature-length films.