Charlie Kaufman Returns to Filmmaking With 'Anomalisa'
The Kickstarted project premieres tonight at the Telluride Film Festival.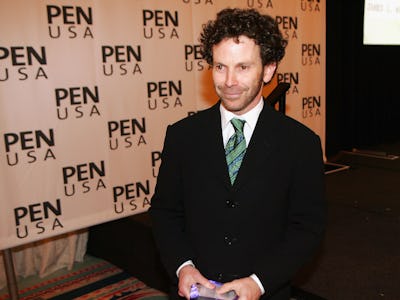 Getty Images
Filmmaker and screenwriter extraordinaire Charlie Kaufman hasn't had a script of his own produced in seven years, but tonight at the Telluride Film Festival all of that changes. With the premiere of his stop-motion animated film Anomalisa — his second directorial effort — we can now admit: Charlie Kaufman is back.
Kaufman made a name for himself writing cerebral dramas like Spike Jonze's Adaptation and Michel Gondry's Eternal Sunshine of the Spotless Mind. He made his directorial debut with the misunderstood masterpiece, Synecdoche, New York, in 2008.
The movie began as a play written by Kaufman and then moved into the bigscreen medium when Dino Stamatopolous, founder of Starburns Studios, started a Kickstarter for the project. After the campaign had raised $400,000, Kaufman's project got the greenlight.
Details of what the movie is about have been kept in the vaguest of terms, both because of secrecy and because Kaufman's movies are basically indescribable. For instance, the IMDB description of the film is simply: "Charlie Kaufman's first stop-motion film about a man crippled by the mundanity of his life," which — save for the stop-motion bit — could describe just about anything Kaufman has ever done.
A profile by the LA Times describes the plot a little further, saying, "The film concerns a British-born inspirational speaker named Michael Stone (voiced by David Thewlis) who, on a soul-sucking business trip from his home in Los Angeles to Cincinnati, has fraught encounters with a number of women, including the confidence-challenged Lisa (Jennifer Jason Leigh)."
By the sound of it, this isn't for the kids in the audience.