'Pete's Dragon' is David Lowery's Coming Out Party
The former indie auteur has serious game.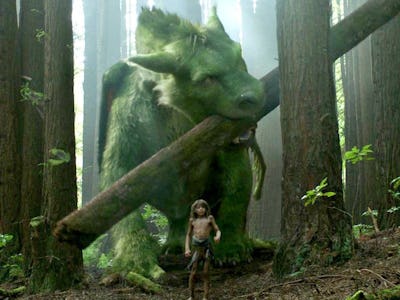 YouTube
Pete's Dragon is another in a newly-minted line of CG-heavy remakes Disney hopes will reintroduce new audiences to some of its most classic titles. The film is an update of the 1977 comedy musical of the same name about a kid, Peter (Oakes Fegley), who's marooned in the woods after his parents are killed. There, he befriends a folkloric dragon he names Elliott, and must cope with the consequences when he's brought back to civilization. But, the most interesting thing about the movie is its director, David Lowery, whose previous movie was Sundance hit Ain't Them Bodies Saints.
Plucking directors from indie obscurity to use as studio puppets is nothing new, but Lowery has managed to sidestep any stigma and make a film that's truly his own. Here's why he's the best indie auteur to join the big leagues yet.
5. Musical Exploration
It's safe to say anyone heading into Pete's Dragon blind will be surprised a Disney movie prominently features songs by indie-rock mainstays St. Vincent and Bonnie "Prince" Billy, let alone the sad sack classic "So Long, Marianne" by Leonard Cohen.
It's a bold move, but only because Lowery's brave enough to set up the perfect tone in the film to complement them with the wondrous handclap-heavy score by long-time collaborator Daniel Hart. Yes, the Cohen song and the Billy and Vincent covers are there to complement the period setting, but the music also gives the film a human touch most blockbuster kids movies forget all about.
4. Viable Tropes
For better or worse, Ain't Them Bodies Saints was all about subverting the western outlaw genre by giving it a self-serious contemporary tinge à la Bonnie and Clyde. It's the kind of thing that would make people skeptical of Lowery as the director of a Disney movie, but it's obvious and even more surprising he brought the same mindfulness of storytelling and cinema tropes to a story about magic dragons for the biggest studio there is. This time, the American myth he tackled was the tall tale, except instead of Paul Bunyan childhood folklore he ingeniously molded the idea of magical realism into what could have been a lazy remake.
3. Earned nostalgia
It's all about what used to be these days, and Pete's Dragon is no exception, and Lowery was able to use the fact the 1977 original wasn't anything special to his advantage.
The film re-purposes the Spielbergian wonder of 1980s Amblin movies and, like Stranger Things, doesn't surrender to mere references to those precursors. You could call Elliott the dragon a gigantic green E.T., but you would be overlooking the nuances and imagination Pete's Dragon is working with.
2. Family Drama
At its brutal core, all the drama of Ain't Them Bodies Saints boiled down to familial themes, as does Pete's Dragon. But, where Lowery's previous movie is all about an escaped convict trying to solidify a family bond, his newest substitutes that emotional need with an enormous dragon and feral child. Both movies, in their own unique ways, are all about how those relationships should come in all shapes and sizes.
More importantly, they're about how there needs to be a basic acceptance. Lowery's storytelling prowess knows the story isn't about Pete choosing between Elliott or Bryce Dallas Howard's Grace Meacham. Its about how they mutually affect one another to create a family unit.
1. Simple Adventure
The other leftover Amblin inspiration is how Lowery never forgot to include a sense of adventure in his grounded neorealist pacific northwest fantasy. Nowhere is this more evident than in the movie's climax, which involves Elliott escaping the clutches of semi-bad guy Gavin, played by Karl Urban, who wants to capture the dragon and show him off to the highest bidder.
There's nothing particularly new or cutting edge about the story of Pete's Dragon, which could have been to its detriment. Lowery's ability to cede its normal plot to awe-inspiring moments of true heartfelt excitement, though, is where the movie shines. It's all about a kid in the woods trying to reconnect with his friend, and that's all it needs.