Ranking the 10 Best 'Star Wars' Fast Food Toys
Finger skateboards, drinking glasses, Jar Jar Binks, and more.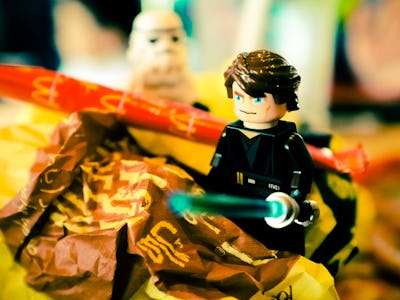 Hunny Alrohaif/Flickr
Disney's Star Wars: The Force Awakens is finally out tomorrow, December 18. In years past, that meant a barrage of corporate tie-ins, including marketing to kids via fast food toys. For The Force Awakens, however, Lucasfilm's only major food partner has been Subway — everyone's least favorite, and now socially tainted, sandwich chain. Worse, Subway's kids' meal companions are a messenger bag and a glow stick lightsaber. It's disappointing enough to eat Subway, and not even the branded toys can ameliorate that these days.
So, with 2015 lacking in oily plastic Star Wars fun, we're taking a look back at some of the best (and worst) fast food toys that accompanied the original trilogy, the prequel reboots, and The Clone Wars TV series.
10. 1977: Burger King Star Wars Glasses
We'll kick off the list with some things that aren't exactly toys, but are coveted nonetheless: collectible glasses. Delicate glassware isn't exactly kid-friendly, but it's definitely kid-targeted. The serious portraiture printed on the glasses also reflects the campiness of the original film. They're quite innocent, in fact, especially when compared to the merchandising behemoth that the franchise is today. So they might not be the most fun toys — or even toys at all — but novelty drinking cups deserve a spot as the originator of future frenzy.
Despite coming with 59-cent Coke back in the day, they cost quite a bit to acquire now.
9. 2013: McDonald's Angry Birds Star Wars Happy Meal Pail
Glasses may not be "fun," but these Happy Meal pails might be worse somehow. It's just stickers. Apparently, it has to do with mixing and matching characters. But again, it's just stickers. Considering it's a toy based on an app, though, there may not be too much even McDonald's could do to make things interesting.
8. 2012: McDonald's The Phantom Menace 3D Spinning Tops
In 2012, Star Wars Episode I: The Phantom Menace got a major 3D theatrical re-release. So, since Lucasfilm was being lazy by just showing the same film again 13 years later, McDonald's didn't try hard either and offered spinners. There's nothing Star Wars specific about the toys except for the little graphics. They don't light up, make noises, or shoot fake lasers. The only top that resembles a character is R2D2, which is a nice touch. Despite lacking bells and whistles, however, McDonald's should get some credit for efficiency. The toy is simple and straightforward — even if it's only marginally fun to use.
7. 2010: McDonald's The Clone Wars Fingerboards
Like the spinning tops, these handheld skateboards released for The Clone Wars TV series have nothing to do with Star Wars. But, unlike those damn tops, fingerboards are awesome. Real skateboarders get sick graphics on the bottom of their boards to look rad as hell, so why shouldn't this polo-wearing little kid get a little something, too? No points for Star Wars-ness. All points for gnarliness.
6. 2010: McDonald's The Clone Wars Replicas
Also for the The Clone Wars, McDonald's released some toys that finally resemble the characters. There are little keychain replicas that have room for storing "treasures." There are also miniature vehicles that have wheels and move about. So while they may not have the high-speed action of less accurate toys, McDonald's got it right in keeping it simple and providing trinkets that resemble franchise favorites.
5. 2008: McDonald's The Clone Wars Toys
Maybe the more recent McDonald's toys got worse because the restaurant absolutely nailed it when The Clone Wars first came out in 2008. It's a thorough set with 18 toys, and each one functions while still having fun bobblehead tops. The toys make noises. They move. What more could a kid (or superfan) want?
They're even available on Amazon for a relatively reasonable price.
4. 2005: Burger King Revenge of the Sith Toys
Burger King made a strong return to the branded toy game in 2005 when the final film of the prequel trilogy, Star Wars Episode III: Revenge of the Sith came out. Each piece has a unique feature — like that back-flippin' Yoda — but they're all obviously of the same set of nice-looking miniatures. It is also an extensive set as there were 31 toys. It's appropriate that the fast food chain that launched the novelty collectibles came back nearly 30 years later with a uniform set to commemorate what, at the time, looked like the franchise's final movie.
3. 1997: Taco Bell The Star Wars Trilogy Special Edition Toys
While uniformity is nice, having distinct toys can really make a set stand out. In 1997, the original trilogy was rereleased in theaters for the 20th anniversary The Star Wars Trilogy Special Edition. Taco Bell, thus, had to make special toys for a special occasion. The R2D2 that stores Princess Leia for some reason is fine, but the shaking Millennium Falcon gyroscope is nuts. Leave it to Taco Bell to think outside the bun box.
2. 2011: The Best McDonald's The Clone Wars Toys
McDonald's made a lot of toys for The Clone Wars, and while the first 2008 set was very clean, 2011 had the best toy of them all. Sure, there are crappy lightsabers, but that Yoda that uses The Force makes up for all of it. A little plastic Yoda actually makes something fucking levitate. It's magical. Suspend disbelief and eat a Happy Meal.
1. 1999: Yum! Foods The Phantom Menace Jar Jar Binks
The force is fine, but you know who's better? Jar Jar "Motherfucking" Binks. To celebrate the real return of Star Wars with 1999's Episode I, the Yum! Foods trio of KFC, Pizza Hut, and Taco Bell realized several toys. Chief among them, however, is a Jar Jar that does literally nothing other than spit out its disgusting tongue.
It doesn't matter what else is in that set. Jar Jar Binks is as useless as a toy as he is a character. And it's perfect.
It's a children's toy that comes with a lackluster meal. It's pointless. But it's incredibly fun.