The Weird World of 'Star Wars' Fan Art and Handmade Collectibles
Disney is great at merchandising. The internet is weird at merchandising.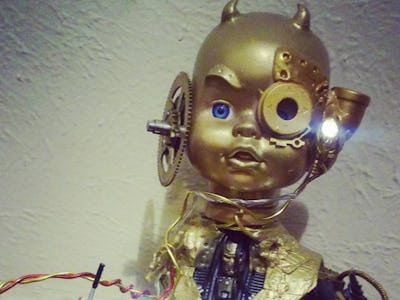 The header image of this article is a work by Seattle artist Casey Weldon, whose pop culture illustrations are available online.
We've all heard the late night jokes about the deluge of Star Wars memorabilia that has accompanied the release of The Force Awakens. Disney even produced Star Wars themed apples, oranges, and grapes. With hundreds of products sporting their recognizable faces, Chewie, Yoda, and that little droid B-88 are beginning to look like this season's Minions. But even large companies like Disney can't explore the furthest reaches of Star Wars art and advertising, due to licensing laws, and oh, a general sense of decency. The internet's artists and Etsy shop-owners are not bound to such restraints.
Illustrators have been producing knock-off designs of The Force Awakens characters since they were first announced. Some character renderings are better than others, but an argument could be made that art and illustration, like the Force, is an ability afforded to both good-hearted people and those who would seek to hurt others.
For some reason, Chewie seems to be the most popular muse for amateur artists. His hairy face appears in sketches, paintings, and digital illustrations all over the internet. Searching for Chewie fan art on Etsy and Instagram produces a stunning collection of off-kilter Wookies.
Illustrators aren't the only ones focusing on Star Wars characters, though. While I will always defend the appeal of adorable crocheted miniatures, Etsy shop-owners have been coming up with some really weird ideas for knock-off memorabilia, like lingerie, Admiral Ackbar toilet decals, and those weird screen-printing illustrations where an image goes on top of a page from an old book.
There is, notably, a desire among independent artists to alter Darth Vader's appearance. Many attempt illustrations and renderings of sexy Darth Vader, and others place him in conflict with characters like Batman.
There are, obviously, gems among the fan art wreckage, and sorting through imitation Star Wars memorabilia can yield winners. Check out this acrylic walker lamp or this tie-fighter diamond necklace.
When it comes to Star Wars fan-made collectibles, it can't all be glass Stormtrooper lamps and death star fire pits. Sometimes you get a baby doll jammed into a bejeweled spaceship.