Obama May Have Picked the Worst Song on Kendrick Lamar's Fantastic Album
But he had a good reason.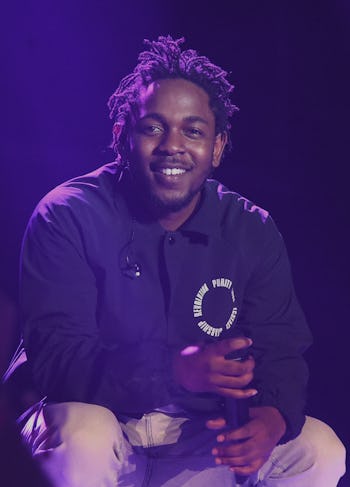 Jason Merritt/Getty Images
In an interview with People, Barack and Michelle Obama revealed their favorite songs, movies, TV shows, and books of 2015. Michelle's favorite song is everyone's favorite: Mark Ronson and Bruno Mars's "Uptown Funk" (we'll forgive that it dropped in late 2014). Barack, however, chose something a lot more controversial: "How Much a Dollar Cost," by Kendrick Lamar, featuring James Fauntleroy and Ronald Isley.
Barack Obama, President of the United States of America, may have picked the worst song on a fantastic album. But for a good reason.
Obama's choice may not be the most popular one, considering "Alright" landed Kendrick Grammy nominations for Song of the Year, Best Rap Performance, Best Rap Song, and Best Music Video. It does make sense, though. On a generally Christian album, "How Much a Dollar Cost" is the most explicitly Christian. The general heavy-handed premise is that Kendrick encounters a homeless man, who asks him for a dollar — "nothing less, nothing more" — which Kendrick refuses because he believes the man will use it to buy crack. As it turns out, that man is actually Jesus Christ, testing Kendrick's faith in another person's goodness.
Obama, like Kendrick, is a Christian, but the song is actually an apt analog for politics, as well. In order to reach his heights of fame and success, Kendrick has had to be selfish. He can't give out favors to everyone who asks, sometimes even when the person is desperately in need. But he wants to and feels pain for thinking of only himself.
Obama, as the leader of the nation, has made a lot of campaign promises, but obviously has not and cannot fulfill all of them. There comes a point where pragmatism overtakes good intentions and results in political stalemate. In his recent address to the nation following the tragic San Bernardino attacks, for example, the most Obama could say was that "the threat from terrorism is real, but we will overcome it." It's hopeful but tempered because there is no easy solution to such a massive problem. Just as Kendrick cannot solve homelessness with one donation in "How Much a Dollar Cost," Obama keeps his focus on the world's macro issues, even when the pain makes specific instances massive.
Musically, Obama's choice is not a surprise either. The Isley Brothers were a major influence on To Pimp a Butterfly, but Ronald Isley is actually on the track, singing the outro.
This past summer, Obama made his Isley fandom public, putting the group's "Live It Up, Pts. 1 & 2" second on his Spotify summer vacation playlist.
It's a mellow track with a notable horn section, smooth piano, and, ultimately, Ronald Isley's silky vocals. The sonic appeal greatly makes up for the bluntness of the lyrics, keeping it interesting even when Kendrick sounds like he's literally preaching. As a piece of music, it's certainly worthy of presidential ears.
While Obama could have chosen the triumphant "Alright," the swaggering "King Kunta," the funky intro "Wesley's Theory," the rapper's delight of "Hood Politics," or literally anything else on To Pimp a Butterfly, "How Much a Dollar Cost" is just right. It's not too cool (even though Obama is the Cool Prez™), but it's got the right message.