The Star of the New Adele Album Is Bruno Mars
And he doesn't even sing on it. #MarsHive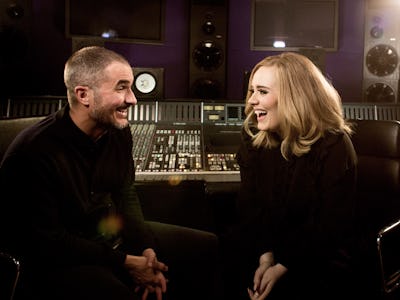 Adele's new album 25 is everything a guaranteed-million-plus-selling, recording-executive-career-saving record should be. It's a titanium-lined capital 'P' pop record featuring arguably our generation's most intimidating vocalist swinging the sharpened words of the era's most reputable songwriters. Max Martin, Shellback, Ariel Rechtshaid have all been brought in to make 25 a timeless — in sound, not necessarily reputation — record befitting of its titanic initial shipping, a record that will likely allow several record biz people to hold onto their jobs for a little while. Building from "Hello" — the record's towering first single — 25 more or less maintains altitude while giving Adele a few new tricks to conquer, in particular the uptempo chug of the Max Martin set piece "Send My Love (To My New Lover)"
There are misses on 25, but not big ones. (For instance, on Tobias Jesso Jr.'s "When We Were Young," Adele plays down to Tobias' level of hollow schlock). But, there are overwhelming triumphs that instantly scan as iconic, songs that make your bones rattle enough to shake a few tears loose.
One of these songs, "All I Ask," is perhaps the most beautifully written and arranged songs Adele has ever performed. A ballad that builds from a solo piano, it's the first song I've listened to back-to-back-to-back-to-back in ages; part of its power is the performance, but it's an impeccably written joint that slays you when it hits the key change for the final run.
While Bruno Mars does not sing on the song, he — along with his songwriting team, the Smeezingtons — has his fingerprints all over "All I Ask"; it's not difficult to envision him singing a demo version. For much of 25, Adele gives you what you expect — mostly flawless vocal performances on arrangements that aren't hooked to any kind of modern trend, an LP that will be moving units at Wal-Mart, Starbucks, and iTunes. (Adele will not be streaming the album anymore.) So much has happened to Adele since 21 became a global phenomenon; she had a kid, she's weathered all kinds of bullshit, she's had a career-threatening throat condition that had to be surgically repaired. 25 is a success, but it was Bruno Mars who found Adele's voice.