"Cool Prez" Barack Obama to Appear on 'Running Wild with Bear Grylls'
Will he drink his own pee?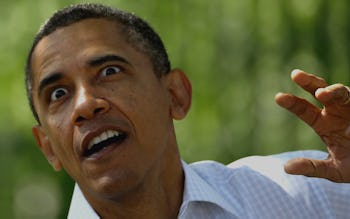 Win McNamee/Getty Images
After Discovery Channel ended his Man vs. Wild run in 2012, Bear Grylls took his survival skills to NBC for Running Wild with Bear Grylls. In the midst of its second season, Running Wild is an hour-long program during which Grylls takes a celebrity on a survival journey somewhere in nature. Later this year, Grylls's show gets its biggest coup yet: President Barack Obama. The shoot for the episode will take place tomorrow on Exit Glacier in Alaska's Kenai Mountains, The New York Times reports.
With the Running Wild appearance, Obama solidifies his reputation as "Cool Prez," as his tenure winds to a close. He's appeared on Marc Maron's WTF podcast and Zach Galifianakis's Between Two Ferns, in addition to countless late-night spots. He even once used his personal Twitter to shit on the Times's Green Pea Guacamole recipe. This is a cool fuckin' prezident.
The Running Wild cameo is truly exciting because Obama is also one of the fittest presidents we've had in recent memory. He loves to ball out and play golf, so his survival should be somewhat legitimate — nothing too pampered. I mean, I'm sure Michelle pushes him to stay in shape because she could totally kick his ass.
The burning question on everyone's tongues, though: Will he drink his own piss?